How to Apply False Lashes a Complete Guideline?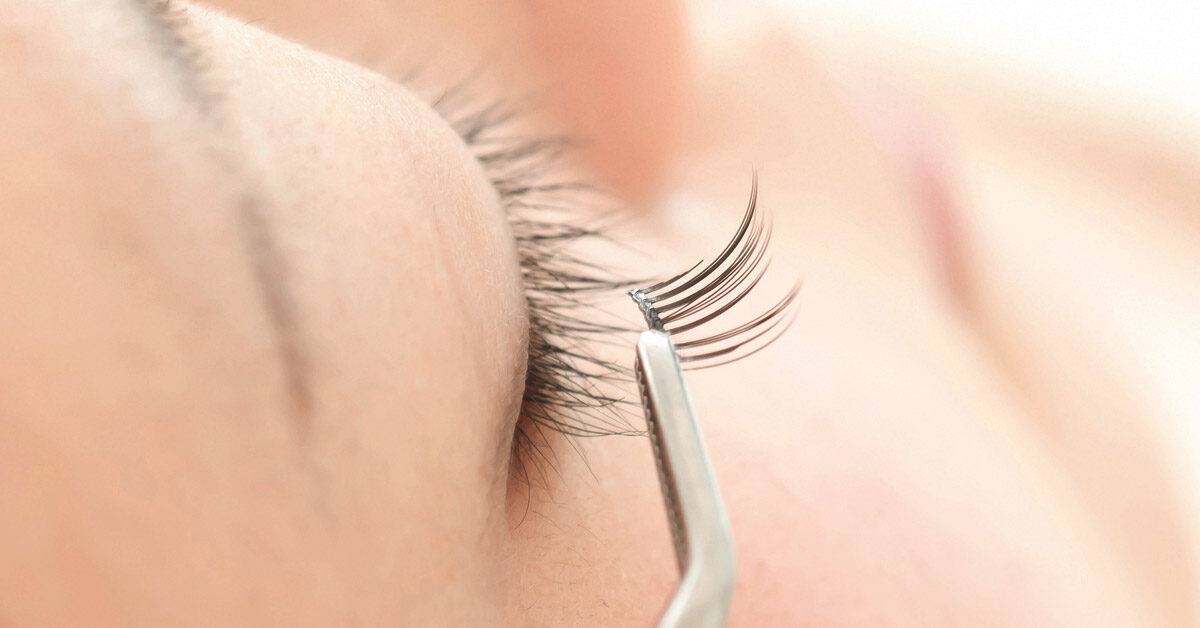 Who is not in love with long lashes and how someone on earth cannot think of having dreamy long eyelashes?
Well, everybody at some point of their life has fallen for long lashes. And it is quiet natural but making your small lashes grow long before an event is an impossible thing. 
It is not possible to naturally grow your short lashes into long, thick and curly lashes but you can use artificial lashes for it. There are fake lashes available in market and you can use them time to time to live your dream life of having long beautiful eyelashes.
They are easy to use and you can remove them by the end of your event. You can use tweezers and other tools for their application and removal. It will make it easy for you to use them often and on.
Here is a complete guideline for using fake lashes; you can go through it to get the correct way of applying and using them. 
Prepare your supplies
You cannot apply fake eyelashes until and unless you are not fully equipped. You cannot put fake lashes with your fingers because they are heavy and thick. Adjusting them with fingers is not a piece of cake.
It requires a lot of effort and time. So, instead of putting yourself in trouble you can sue equipment like eyelash tweezers. They help you in holding and applying fake lashes.
They are an important supplier and you cannot ignore them at any cost. The other supplies that you need are lash adhesives and eyelash curler. The adhesives are used for making them stick with your lashes so they do not fall of when you move your eyeball in different directions.
Moreover, the eyelash curlers are also an important supply because they help you in keeping your lashes separated. Fake lashes are thick and it is important to protect them from tangling. Because it gives a rough look when your lashes look tangled and globed. 
So, before you start putting your fake lashes it is essential to have all the tools by your side. It will not only save your time but will also help you in comfortable application.
Trim them a little
Fake lashes are usually very long and thick. When you apply them there is a chance that they will get clogged or tangled because of their length and volume. To avoid this problem it is essential to trim them little.
When you use lengthy and heavy lashes you automatically get tired and feel pain in your head. It is natural because the lengthy lashes put pressure on your eyes.
Girls often complain of headache after wearing fake lashes for a long a time. And it is because of their length and thickness. So, to avoid these situations you can trim them a little.
For trimming them you can measure them by putting them on your eyelid. It will help you in cutting the excess length of the fake lashes.
Apply the lash glue with strategy
The next step after trimming the lashes is to put glue on them. But wait, before putting the glue make sure you are doing it in correctly. Apply it gently and carefully and then wait for it to get fry.
Some girls do not wait and put it immediately on their eyelid without waiting for it to dry. Later it get globed and tangled and then it becomes difficult to set them. So, it is a strategy of applying lash glue that you have to wait for at least thirty seconds to let the glue settle down.
When it gets a bit dry you are all set to put it in your eyelid.
Look down to set the lashes
It is observed that most of the girls look in the mirror while setting their lashes. And it is wrong process of applying fake lashes. When you look in the mirror the strip is not able to stick properly.
You will feel that it is sticking in the right direction but it is actually not. So, for the correct application it is preferable to look down. 
Putting the fake lashes in eyelid is the hardest part because it can go wrong if not done properly. For this purpose you can sue the eyelash tweezers.
When you look down without closing your eye you get the right direction to apply the fake lashes. In this direction they will stick comfortably and will not fall of easily. It is a little tip but is very useful in daily routine.
Use eyeliner to camouflage it with your natural lashes
It is the final step of application but is equally important. To give a natural look to your lashes it is essential to camouflage it with your original lashes.
You can do it by using eyeliner and extend it at the corners to make it look more natural. At the end, look in different directions to see if it is looking perfect or not.
You may be interested in these jobs
Found in: Jooble US - 2 hours ago

---

Arthur Lawrence

Washington DC

Arthur Lawrence is urgently looking for a Principal C#/.NET Engineer for a client in Federal Way, WA. Kindly review the job requirements below. Your immediate application will enable us to place you successfully. · Must Have: · Extensive coding / developing and testing experience ...

Found in: beBee S2 US - 4 days ago

---

American Esoteric Laboratories

Memphis

Full time

Job Functions, Duties, Responsibilities and Position Qualifications: · You are a superhero when it comes to patient specimens. You've got problem-solving instincts, a passion for patient care, and the drive to keep things running smoothly. You're also looking for great benefits, ...

Found in: beBee S2 US - 1 day ago

---

Boucher Group

Greenfield

Regular, Full time

Payroll Administrator · The Boucher Group Inc is looking for a motivated and enthusiastic Payroll Administrator to join our team As a Payroll Administrator, you will be responsible for ensuring every member of our company is paid correctly. · Ultimately, you will work with a team ...