How a Mortgage Can Affect Your Credit Score | Peter Palivos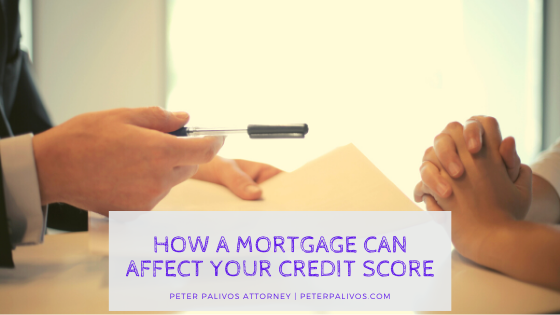 When it comes to buying a house, the average person cannot afford to pay entirely in cash, so, instead, they opt for a home loan or a mortgage. And like every other primary line of credit, a mortgage will appear on an individual's credit report, which measures a person's ability to pay back their debts. This is actually a good thing, as a mortgage can help build an individual's credit in the long run. With that in mind, the following article takes a deep dive into how a mortgage can affect and improve a person's credit score.
A Mortgage Adds to the Individual's Credit History
An individual's payment history is the most important thing that affects their credit score. That being said, a mortgage usually takes between fifteen and thirty years to fully pay it off. This is plenty of time to polish the credit score by making payments on time every single time. Indeed, when an individual proves that they are a responsible borrower, their credit score will naturally rise. In addition to that, it can also contribute to the age of an individual's credit, which will undoubtedly help. On the other hand, however, if an individual doesn't make a payment in full and on time, they can definitely expect a drop in their credit score.
A Mortgage Diversifies a Person's Credit Score
Whether it is a mortgage, auto loans, or credit cards, the type of credit a person uses can undoubtedly affect their credit score, but not nearly as much as making payments in full and on time. When it comes to credit score, an individual's credit cards are considered reusable credit, and their mortgage is an installment loan. That being said, the more diverse a person's credit is, the better, and a person's mortgage adds to the mix.
The Bottom Line
As long as an individual pays their mortgage in full and on time, the debt they are taking on for a house is considered a responsible debt. So, responsibly paying the mortgage in addition to other bills will certainly bring the person's score back up.  
Article originally published on
Articles from Peter Palivos Attorney
View blog
You may be interested in these jobs
Found in: Jooble US - 6 days ago

---

Northeast Healthcare Recruitment, Inc.

Felton, DE

Part time

Nurse Practitioner : Flexible Schedule and Excellent Source for Supplemental Income Perform Health Risk Assessments ( HRAs ) on patients in their homes. · Nurse Practitioners with 1 year experience · Nurse Practitioners conduct comprehensive in-home health risk assessment to iden ...

Found in: beBee S2 US - 4 days ago

---

LifePoint Health

Marquette

Regular, Full time

Job Description · UP Health System - Marquette · Codes and posts all patient charges received, identifies discrepancies and analyzes issues to ensure all charges are posted timely. · Provides education regarding documentation requirements to improve coding quality and ensure accu ...

Found in: Jooble US - 5 days ago

---

SAINT JOSEPH HEALTH SYSTEM

Mishawaka, IN

Employment Type: Full time Shift: · Day Shift Description: · $8,700 Sign-On Bonus Why Saint Joseph Health System? · Saint Joseph Health System is a not-for-profit, multi-hospital health system located in North Central Indiana. · Our system includes : · • 254-bed acute-ca ...