5 years ago · 7 min. reading time · ~10 ·
Grumpy and Grouchy Reflect On Beeing beBee Brand Ambassadors…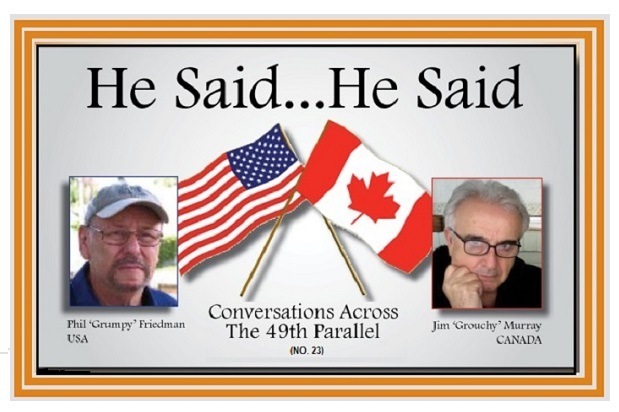 THE DYNAMIC DUO OF GROUSING BUZZ THE LAND OF POSITIVITY...

Preface:  This is the 23rd installment of He Said He Said. Truth be told, Jim Murray and I agree that writing this series is about as much fun as two straight guys can have together, and so we're continuing to do it. So you know, the process is pretty much real time live, with each of us writing quickly and off the cuff, although we deliberately choose topics that are likely to provoke disagreement and/or discussion. As for us, the exchange with our readers is what it's all about. So please, feel free to read and join the conversation.

JIM:
Well, Phil, it's been a long time coming but the big bees have finally decided to make you an ambassador. Not that you haven't actually been one, at least in spirit, since the get go last spring when we all arrived from the shores of the Lumpy Kingdom, loaded for bear.
In my opinion and, don't get a swelled head over this, you have actually exemplified, probably more than anyone, what it really means to be a bee.
There are a number of people out there who would definitely find you an acquired taste, because a lot of social media seems to be about beating around the bush, political correctness and not ruffling any feathers. You have, IMO, elevated feather ruffling to a fine art. And when you look at the numbers you pull and the engagement you generate, you can see that there is no shortage of people here who appear to genuinely appreciate stuff that's considerably edgier than a dull butter knife.
We both spent most of 2015 raging against the machine over in the Lumpy Kingdom. It wasn't so much that we felt we could win. It was really more about the gestalt of venting and letting our feelings be known in ways that were true to our own individual approaches.
After moving my blogging HQ to beBee and then being appointed an ambassador myself, a lot of people told me that they thought I had kind of re-invented myself. Mostly because I no longer had a machine to rage against, so to speak. I don't feel this personally, but then it's a hard thing to recognize at the best of times.
But, for me, it really begs the question of how you are feeling about your recent appointment to beBee ambassador. Is this going to change you, and if so, how do you think that might manifest?


PHIL:
 Not to be — heaven forbid — contrary, that's
three
questions, Jimbo. But who's really counting?
Beyond that, please don't take offense, but I don't really see it as a big deal.
For to see it as such is to imply that I and my writing are big deals. Which I am not, and which my writing is not. It's all simply what it is.

And nothing really changes because of being given a key to the ambassadorial restroom.
I know that statement will not necessarily make me more friends or influence other bees, but that's never stopped me before from putting my foot in it, and I doubt it ever will.
Anyway, for the record, I was initially conflicted.
On the one hand, I'd be dishonest to say that the recognition was not welcome. But, on the other hand, I had to think long and hard about the possibility that, if I accepted, I would lose — at least in my own eyes — what I felt was my objectivity when it came to viewing beBee for what it is, what it can become, and what it should become.
Then I thought, "Oh, just get the f@#k over yourself." Which I did. And which brings us here to where we are.
To quote, John White, MBA, the core activities of beBee Brand Ambassadors are, "… writing great articles, sharing content, starting discussions, welcoming users, promoting beBee on social media …"
That's pretty much what I've been doing since you and I first interviewed Javier about beBee in an installment of this very series on LinkedIn nearly a year ago. And that's what I'll continue to do, ambassador label notwithstanding.

JIM:
OK so you're just gonna keep on being yourself. Me too. But you have to admit that has been one of the things that has gotten you into some hot water.
By that I mean, rubbed some people the wrong way.
So, that really begs another question or three. Like, are you going to factor that into = posts or comments you see as 'insipid'. Or will you just choose to pass on those? Or do you even think that is a relevant issue?
I know for a fact (hindsight 20/20) that when I was made an Ambassador, one of the first things that occurred to me was that I would have to be a bit more 'conservative' in my posts and comments. This was mainly because I wasn't sure how the designation was viewed by other people.
Some people actually told me they thought that being an Ambassador was elitist and akin to being an Influencer over in the Lumpy Kingdom. I devoted an entire post to making sure people understood that was not the case.
But perception, in many cases, is reality and I have definitely found myself being a little less wild and wooly in the opinion department, least here on beBee. On Facebook, not so much.
So just wondering if, somewhere in the back of your mind you're feeling twinges of the same thing now. 

PHIL:
   Now, that question moves us into an area of sober discussion.
My view of the landscape of social media is significantly colored by my exposure as an undergraduate to the work of social philosopher, Eric Hoffer. Hoffer identified groups in society which he called "counter-elites", who oppose those whom they perceive to be existing elites. However, counter-elites do not oppose elitism per se, but simply want to take the places of current elites.
I found on LinkedIn that many who criticized the Influencer system there were really only pissed off because they felt locked out of becoming Influencers themselves. And that when the Unfluencers (tm) group was founded by Jeffrey Strickland and Debesh Choudhury, many who joined were not so much dedicated to the lofty principles laid out for the group, but were really seeking a counter-elite label to use.
As you (and Javier and John White) well know, I've several times criticized the Ambassador program ― mostly because I've thought it de facto exhibited too much activity in self and mutua promotion on beBee, when it should have been concentrating, to my mind, on off-platform marketing of the sort you do regularly on LinkedIn. Having voiced those criticisms, and after accepting the Ambassador designation, I naturally wondered whether I would (not should) soften my critical views in the area.
Well, neither my friends nor my detractors need worry. I ain't changin' nuttin.
For I believe that people can embrace and work toward a common goal without being like-minded and without giving up their individuality. And because I believe further that there is strength in diversity.
It's like the difference in attitude between the U.S. military leaders and those of Israel. U.S. military training often proceeds by way of breaking down individualism, then rebuilding its soldiers as a uniform corps. In contrast, the Israeli military believes in building upon the stubborn individualism of its people.

This, BTW, is not intended as a political statement, only as an observation of fact in the service of illustrating my point.


JIM:
Well that certainly qualifies as a classic Phil Friedman response. And it kind of brings to mind something I heard Hillary Clinton say in the election campaign and one of the main mantras of our own devilishly handsome Prime Minister Justin Trudeau.
Both were talking about what made their countries great, and while I have learned my lesson about speaking for Americans, I can honestly tell you that diversity: racial, religious, philosophical and attitudinal are what makes Canada great.
The same can be applied to beBee and its ambassadors. Part of the reason, I assume, they have been chosen is their individuality and their belief in diversity of opinion. I would also like to think that another part is their ability to promote beBee across their networks.
As you point out, promoting beBee here on beBee is tantamount to singing to the choir and really kind of useless. I'm sincerely hoping that all the ambassadors have a bit of that promotional ability. Part of what I'm doing is trying to make it easy for them to have interesting and intriguing promotional to spread around, if they don't feel comfortable creating it themselves.
I'm not really sure how well it's working. But John White keeps telling me to keep it up, and Javier reposts the hell out of my stuff. So that's encouraging. And now that you have joined the ranks, there will most assuredly be another very powerful voice emanating from beBee out into the social media world.
I see the same potential in beBee that you do. And lord knows we both want it to work. And it very much feels like it is. But like any complex product out in the marketplace, it's the users who will ultimately dictate what kind of site this will be.
Our job is to make sure that we paint a clear picture of what beBee can mean to them. Because that's the one question that everybody will be asking.
Post Script: About the same time that Jim and I started working on this post,  Juan Imaz published an excellent positioning statement for beBee. If you really want to understand beBee's strategy and the advantages it offers to its members, this article is an absolute must-read.
https://www.bebee.com/producer/@juan-imaz/bebee-the-platform-to-create-showcase-and-share-your-personal-brand#c4

Please keep in mind that JimMurray can, and always will speak for himself.  However, you are free to post comments directed to either Jim or me, on either his post of HSHS No. 23, or mine. You'll always get an answer one way or the other.

Author's Notes: If you found this interesting and would like to receive notifications of my writings on a regular basis, click the [FOLLOW] button on my beBee archive page. Better yet, you can arrange on that same page to follow my "blogging" by email. As a writer-friend of mine says, you can always change your mind later.
Feel free to "like" and "share" this post and my other LinkedIn articles — whether on LinkedIn, Twitter, Facebook, or Google+, provided only that you credit me (and in the case of "He Said He Said", Jim as well) properly as the author(s), and include a live link to the original post.
About me, Phil Friedman: With 30 some years background in the marine industry, I've worn numerous hats — as a yacht designer, boat builder, marine operations and business manager, marine industry consultant, marine marketing and communications specialist, yachting magazine writer and editor, yacht surveyor, and marine industry educator. I am also trained and experienced in interest-based negotiation and mediation.

In a previous life, I was formally trained as an academic philosopher and taught logic and philosophy at university.
Before writing comes thinking (the optional-to-read pitch):  

As a professional writer, editor, university educator, and speaker, with more than 1,000 print and digital publications, I've recently launched an online program for enhancing your expository writing: learn2engage — With Confidence. My mission is to help writers and would-be writers improve their thought and writing, master the logic of discussion, and strengthen their ability to deal with disagreement.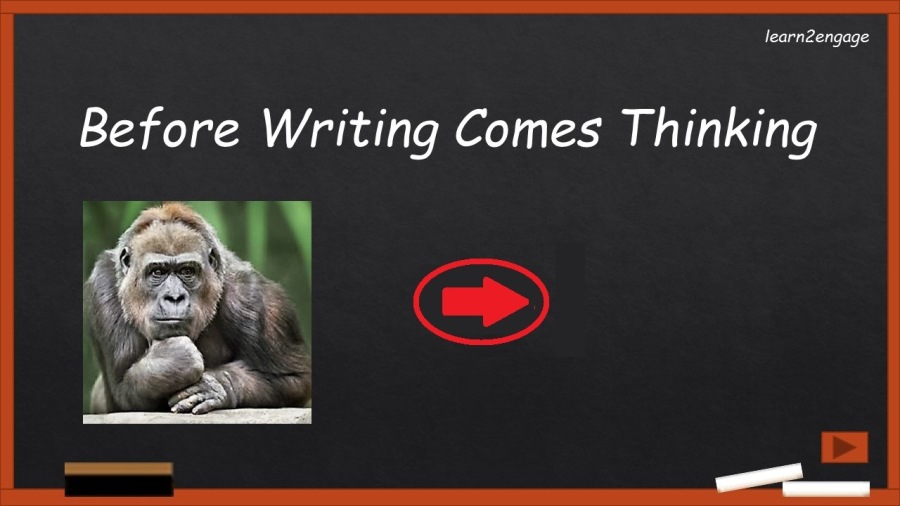 For more information,
click on the image immediately above. Or to schedule an
appointment for a free 1/2-hour consult or to sit in on one of our online group sessions
, email:
info@learn2engage.org
. I look forward to speaking with you soon.


"""""""""""
You may be interested in these jobs
Found in: Talent US± - 5 days ago

---

DispatchHealth Management

La France

How Youll Make an Impact: Provide mobile, diagnostic echocardiographic scans for physician diagnosis utilizing portable echocardiography equipment and appropriate technical knowledge and skills. Echo exams may be performed in a variety of settings, including private residences, s ...

Found in: Jooble US - 6 days ago

---

Materion

Lincoln, RI

Full-time

Primarily function is the design, installation and maintenance of all plant electrical and mechanical equipment. Position may, at times, also assist in the repair, replacement, or installation of production equipment in order to assure maximum throughput within all production ope ...

Found in: Jooble US - 1 day ago

---

St. Joseph Medical Center

Tacoma, WA

Overview CHI Franciscan and Virginia Mason are now united to build the future of patient-centered care across the Pacific Northwest. That means a seamlessly connected system offering quality care close to home. From basic health needs to the most complex, highly specialized care, ...