11 months ago · 5 min. reading time · ~10 ·
Grow your Sales with these 5 Easy Tips for Female Entrepreneurs
Is growing your sales the most challenging and complicated element of your business? I hear you. It's a broad and complex area, with so many moving parts. What strategy should you use? Which phase should you focus on? Where do you even start? Add to these the many coaches out there who promise you that you can increase your sales quickly if you buy their programs and copy their method. With so much information and misinformation, how do you know which ones will work for you?
As a business coach for women myself, with over 30 years of business experience, I will tell you this: it's not easy, and you can't do it quickly. There's no magic formula, no instant fix. It's different for every business, and what works for others may not work for you. And you won't grow your sales by sales increase strategies alone. There are other areas of your business that affect it, such as positioning, pricing, converting leads, and many more.
If you want to truly improve your sales, you need to approach it in a holistic way. That's what I set out to do when I created "The Women's Blueprint to a Successful Business." It's a system that involves 9 areas of business, plus 54 sub areas, you need to focus on when you're scaling and growing your business. Yes, that's a lot of topics! You can learn what all of them are by downloading a copy of the document [here.] – insert opt-in link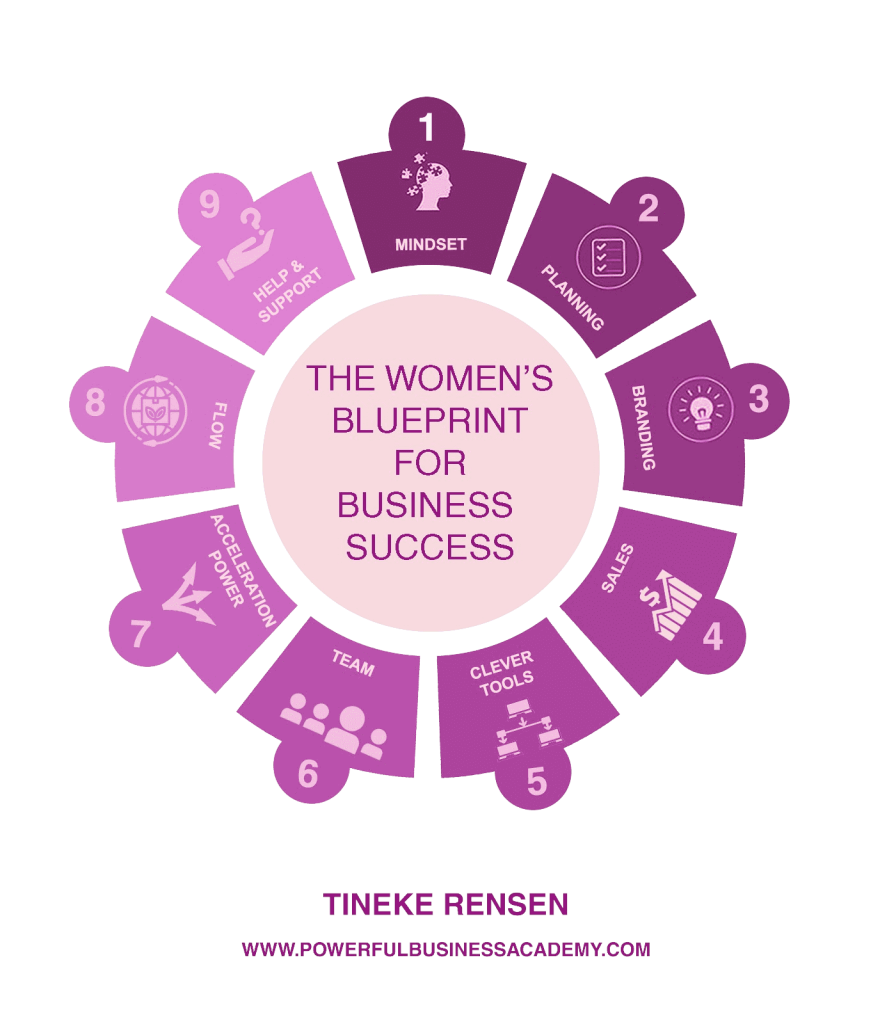 And while you can't drastically increase your sales overnight, there are still some simple and easy things that can help it along. Here are some ideas to help you boost your sales.   
1. Pick up the phone and make calls
Having conversations is the most straightforward way to get more sales. Reach out to your leads, contacts, even your family and friends. I understand that sometimes female entrepreneurs don't like putting themselves out there, or mixing business with personal relationships. But these are just limiting beliefs. Because, really, what is the worst that can happen? The truth is, you can have good sales conversations with people. If you have a good product or service, they will want to hear about it. And if they say no, which happens, of course, you can always move on.  
2. Start an inbox conversation
If you work mostly online, you can start an inbox conversation on Facebook, LinkedIn, or Instagram with a direct message. You'll have a better chance of converting potential clients if you engage them in a meaningful conversation where they can ask you questions, and you can address their objections.
And if it's a service you sell or a high-price ticket, aim to schedule a call or a meeting with them. This gives a personal approach to selling and will allow you to have a more free-flowing discussion with them.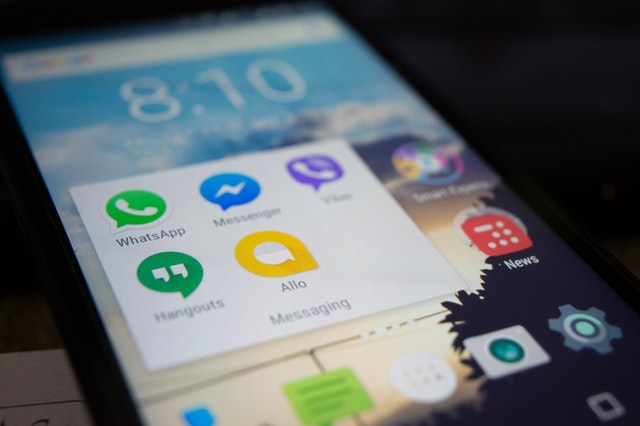 3. Leave advertising to the experts if you want your sales growth strategies to work
Advertising online is a good way to increase your sales, especially if you're selling a product. Make the most of your money by leaving it to the experts who know best how to do it. Yes, you may know how to do it yourself, and you may think that you'll be saving money if you do it yourself, but the fact is you'll get way better results when you let professionals or agencies handle it for you. They know what image, copy, and strategy to use to have a higher conversion rate.
4. Have a good landing page or sales page
Make sure that your sales page serves you well. Does it look visually appealing? Do you have a payment system in place to make it easier for your clients to make a purchase? Are you able to collect information such as their email address and phone number for follow-up emails or future promotions? These are some factors you need to take note of if you want more sales through your website.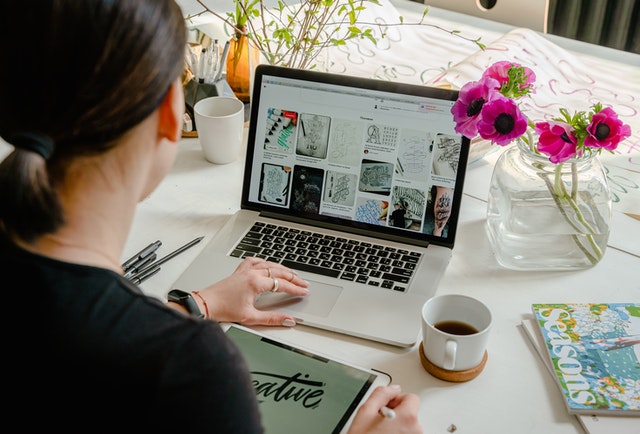 5. Ask for referrals
Although this way is not scalable, getting referrals is another thing you can do to increase your sales. You can create a referral program for your current clients or ask your friends for leads you can connect with. Growing your business with referrals is by far the most favorite method of businesswomen. Because the leads are warm. And they don't' need to sell too much to be able to convert.
But like I previously mentioned, this method is not something you will be able to control because this is dependent on other people making referrals. So, don't rely solely on this and have other strategies in place.
Summing it up
What I've learned as a businesswoman and a business coach for women is that it really helps to approach sales from the perspective of serving and being of help to your clients. Don't just be in it for the money or the quick sale. Because your clients and potential clients will take notice of that. You want your clients to want to work with you and be in business with you. You want them to keep coming back. 
Learning how to grow your sales involves a lot of work on many different areas of your business. And these tips I shared only scratch the surface of what you should do to have a sales increase strategy that works. You should also work on the different areas of your business that affect your sales, such as lead generation and growing your audience. A holistic approach will always be the best way not just to boost your sales but grow your business as well.

Learn more 
My name is Tineke Rensen and I am a business coach for women. I created the system "A Women's Blueprint for Business Success," where I work with female entrepreneurs in 9 major areas in their business.
There are many out there who call themselves "business coaches" but have never had their own business. What you need is a business coach who has experience in scaling and growing businesses. And I've had plenty. In my 31 years of experience, I've become an expert on many areas, and I can help you with whatever topic you need help with. Because it NEVER is about changing just one thing that'll pivot your business around
If you want to learn more about what makes a good business coach for women, check out this article about the 20 questions you should ask a business coach for female entrepreneurs.
Interested to learn how you can work with me one-on-one to build your one-woman gig to a proper business and double your income within a year? Click here now to schedule a quick 15-minute call with me and get started.
About the author: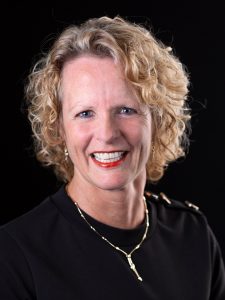 Tineke Rensen of Powerful Business Academy has been in business for 31 years. She built an international Outdoor and Survival business from scratch and sold it after 22 years.
Tineke was also a national whitewater kayaking champion.
She now is one of the most all-round business accelerators and mentors you can find. She helps businesswomen to "Scale & Grow, Make More Impact And Work Less." There are very few topics she cannot help you with in your business. Many people find this hard to believe, but hey, how much do you think you know about scaling businesses if you live it day and night for 31 years?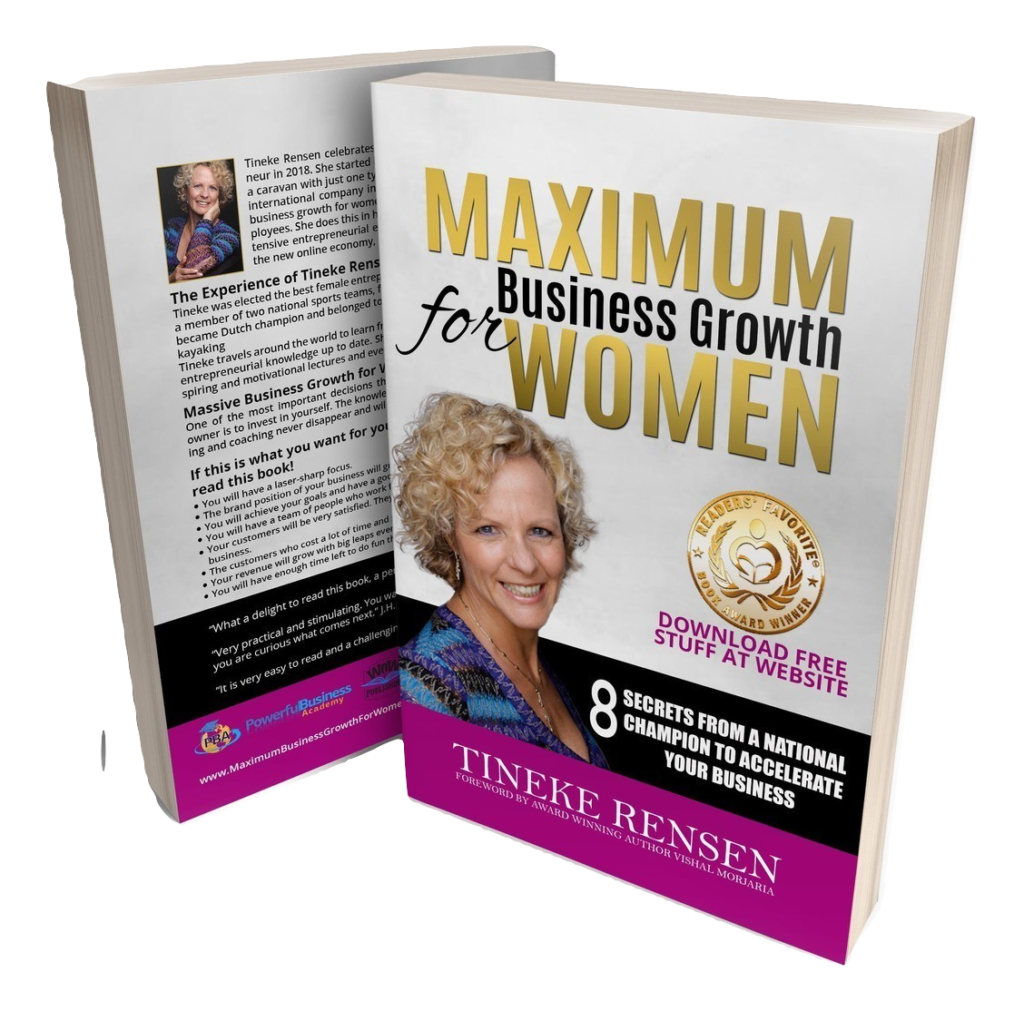 Tineke created the system "A Women's Blueprint To Business Success." She is a multi-awarded serial entrepreneur and is the author of the book "Maximum Business Growth For Women."
You may be interested in these jobs
Found in: beBee S2 US - 6 days ago

---

Harvard Partners, LLP

Boston

As the Senior Structured Cabling Engineer (Low Voltage), you will be part of a growing team playing a key role in Merger & Acquisition projects related to building Offices to adhere to new Parent Company network and telecommunications standards. · Responsibilities & Qualification ...

Found in: Linkedin WW - 4 days ago

---

Big Creative Agency

Los Angeles, CA,

STAFF ACCOUNTANT - AP/AR - GL - HYBRID - LOS ANGELES · Creative Agency with a focus on the latest technology and techniques is seeking a Staff Accountant to join our team. The Staff Accountant will be responsible for owning all matters related to the Accounts Payable and Receiva ...

Found in: beBee S2 US - 3 days ago

---

Teamworkonline

Park City

Manager - $35,000 - $70,000

JOB DESCRIPTION · WESTERN REGION MANAGER · CLASSIFICATION Year-round; Full-time · FLSA Exempt · REPORTS TO Western Region Director · LOCATION Park City, UT · TRAVEL Some travel required, as necessary · SALARY $40k-$50k · U.S. Ski & Snowboard is seeking a Western Region Director ...