1 year ago · 2 min. reading time · ~10 ·
GOP POLITICIANS CONTRACT "JELLYBONEITIS"- A RARE SPINAL DISEASE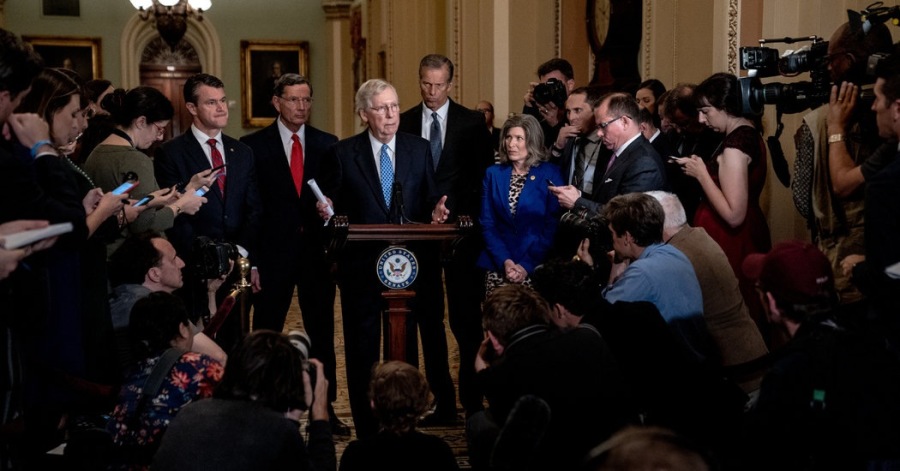 While Americans are engaged in a fierce battle with COVID-19, Republican politicians are grappling with a rare spinal disease called Jellyboneitis, a mysterious affliction that causes a complete failure of the spine.
Minority Leader Mitch McConnell slithered to the microphone, was hung up on a coat rack, and spoke to reporters.
"Three weeks ago I was fine," the frog-faced evil one said. "I thought that what President Trump did on January 6 was wrong and he should be impeached. Then I caught that horrible disease with the funny name. Now I don't think we should convict Trump just because of a little misunderstanding at the Capitol. We need to forgive and forget. That's the American way."
Sen. Ted Cruz agreed.
"The Democrats are horrible, petty people," the Texas Senator told The Lint Screen. "They are trying to divide our nation. All Trump and the GOP did was try to overthrow the government so we could keep our democracy free. We only betrayed the Constitution to achieve freedom by ignoring the election results and making Donald J. Trump emperor for life! Where's the harm in that?"
Yesterday, 55 GOP senators voted against holding an impeachment trial for Trump proving they have Jellyboneitis.
"There was nothing wrong with what the president did on January 6," Sen. Lindsey Graham said. "At first, I was mistaken and criticized President Trump for inciting an insurrection and having his people storm the Capitol. Then some angry Trump supporters yelled at me at the airport. I think one of them must have had Jellyboneitis because I suddenly thought that what the president did was fine. He just encouraged his people to tour the Capitol and take craps, urinate, steal, deface the people's house, attack police, kill, find the traitor Mike Pence and hang him, and work to destroy our democratic republic. Where's the crime in that? I don't see it."
"That spinal disease has really done a number on me," Sen. Marco Rubio said. "I have absolutely no backbone, no courage, no inclination to do anything but praise Trump for his incredible smarts and leadership. How pathetic is that?"
"Jellyboneitis has knocked me for a loop," Sen. Ron Johnson said. "I had no integrity before I got it, and now I'm all for supporting treasonous behavior. Seems all I want to do is kiss Trump's butt."
Sen. Rand Paul also has the disease.
"I'm an asshole when I'm healthy," Paul said. "With this spinal thing, I am an asshole of biblical proportions. I've got a horrible case of hypocrisy. But I've always had that."
Sen. Josh Hawley who along with Cruz was a vocal advocate for overturning election results also has come down with Jellyboneitis.
"I have zero honor, integrity, or courage," Hawley said. "And because of Jellyboneitis, I not only have no strength to stand up to the wannabe dictator Donald Trump, I've also developed craven, cynical political motives for promoting myself as patriot while I try to destroy democracy. I think I may run for president someday, if President Trump lets me. All I have to do is continue worshipping him. There's nothing wrong with that."
The GOP is not seeking any treatment for Jellyboneitis. They seem perfectly happy to show no political courage.
———————————————————————————————-
Enjoy PD Scullin's debut novel "SAWDUST: Love is wilder than a circus," a humorous romp across America with a circus in the early '80s. You're a click away from a helluva fun ride. Buckle up and go.
You may be interested in these jobs
Found in: Jooble US - 1 week ago

---

Are you passionate about creating an exceptional client experience? · Discover your opportunity with Union Bank®, a division of the Mitsubishi UFJ Financial Group (MUFG), the 5th largest financial group in the world. At Union Bank, we have our clients' best interest in mind and d ...

Found in: Jooble US - 1 week ago

---

Torch Technologies, Inc.

Huntsville, AL

Full-time

Torch is seeking a Senior System Administrator for the following actions. Identify and ensure all appropriate STIGs have been applied to network endpoints (Windows,Linux,VMware,etc). · Identify and ensure all end points have been patched to meet ACAS scan compliance. · Responsi ...

Found in: Jooble US - 1 week ago

---

DSV Road Transport

Atlanta, GA

DSV - Global transport and logistics · In 1976, ten independent hauliers joined forces and founded DSV in Denmark. Since then, DSV has evolved to become the world's 3rd largest supplier of global solutions within transport and logistics. Today, we add value to our customers' enti ...