1 year ago · 3 min. reading time · ~10 ·
GOP KOOKS BLAST GEN. MILLEY AS "UNPATRIOTIC, EVIL, DISGRACEFUL"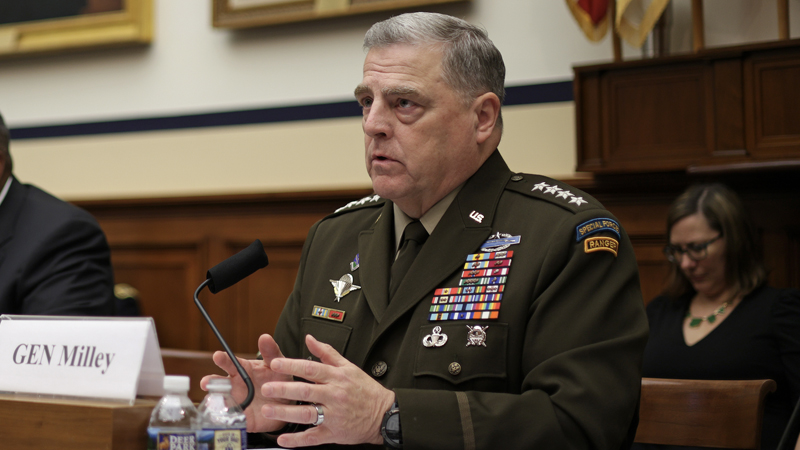 General Mark Milley may be the chairman of the Joint Chiefs of Staff, but that meant bupkis to many Republican representatives on Capitol Hill.
"I'm not impressed with that guy," Florida Rep. Matt Gaetz said following his grilling of the General before the House Armed Services Committee. "I don't think he loves our country, not like I do with my incredible patriotic service in Congress."
Colorado Rep. Lauren Boebert was agitated after watching Gen. Milley's performance.
"He just sat there with all these fancy medals on his chest," she says as she cleans her Barrett .50 caliber rifle. "Big flipping deal. He should get a medal for betraying the white race because that's what he did!"
The Republicans are in a heated lather because of Milley's stated belief that the military should be "open-minded" and "well-read."
"Milley says he wants to understand white rage," Georgia Rep. Marjorie Taylor Greene tells The Lint Screen, slapping a fresh clip into her Glock. "Doesn't he have a television? Hasn't he ever watched Tucker Carlson or Sean Hannity? There are two white guys listing their grievances and victimhood daily. They'll explain to the good General why they're victims, minorities got it easy, and society's out to get them. You want to know what causes white rage, General Milley? Educate yourself, G.I. Joe––watch some Fox News! You'll see how the Satanic, baby-eating Democrats cheated Trump out of his re-election and ruined our Trump democracy."
Rep. Boebert nods her head in agreement as she loads her weapon.
"The military is exposing our troops to books critical of the white race," Gaetz says. "These books blame white people for things like the little slavery misunderstanding. Why on earth does the military need to know anything about the history? I say grab a weapon and defend our country. That's your job, military. Leave the white race bellyaching to liberals and college eggheads."
Gaetz loads his hair with fistfuls of product, brushes it back, and continues.
"The General said he wants to know more about what happened on the January 6 Capitol tour," Gaetz says. "What's there to know? We had some visitors, they wanted to discover how Biden rigged our election, they did some investigating, looked for the traitor Mike Pence, then they went home. Any questions, soldier boy? Enough of this looking in the past! Let's prosecute the Capitol police officers who exceeded their authority by attacking harmless, innocent, patriotic visitors to the Capitol Building."
Gaetz takes a deep breath and exhales, exasperated. "Let's stop the charade of the Capitol tour on 1-6 being a horrible incident. It wasn't. The liberals are trying to make it a big deal, but everyone knows they don't support law and order or our military. Only the Republicans support law, order, and the military!"
He pauses and stares at the reporter. "Do you know if General Milley has any granddaughters?" He smiles. "I'm happy to babysit."
——————————————————————–
Read PD Scullin's debut novel "SAWDUST: Love is wilder than a circus," a humorous ride across America with a circus in the early '80s. This book has earned 100% 5-Star reviews on Amazon. Act now and save during pandemic pricing. You're a click away from a fun, unforgettable ride. Buckle up and go.
You may be interested in these jobs
Found in: Indeed US - 10 hours ago

---

Safelite

Fort Lauderdale

Full Time

You've probably never thought about working with auto glass for a living – you're not alone Our everyday heroes come from all sorts of backgrounds, many of which have little (or no) mechanical experience. · If you're naturally curious and have a customer service mindset, we'll te ...

Found in: Indeed US - 1 week ago

---

Wendy's | WTC Ventures United States

Woodinville

Full Time

WORK TODAY, GET PAID TOMORROW · If you are in need of cash before your next paycheck, at Wendy's you can access up to · 75% of your earned but unpaid wages with no fee or interest charges. · We're looking for outgoing and energetic Crew Members · Crew Members provide a level of c ...

Found in: Indeed US - 1 week ago

---

Arkansas Hospice, Inc.

Russellville

PRN

POSITION SUMMARY · The Staff Registered Nurse (RN) is responsible for coordinating the interdisciplinary Plan of Care for assigned patients/families, providing appropriate interventions and support for the patients/families/caregivers by identifying their physical, psychological, ...