GMR Transcription Certified As a Women and Minority-Owned Business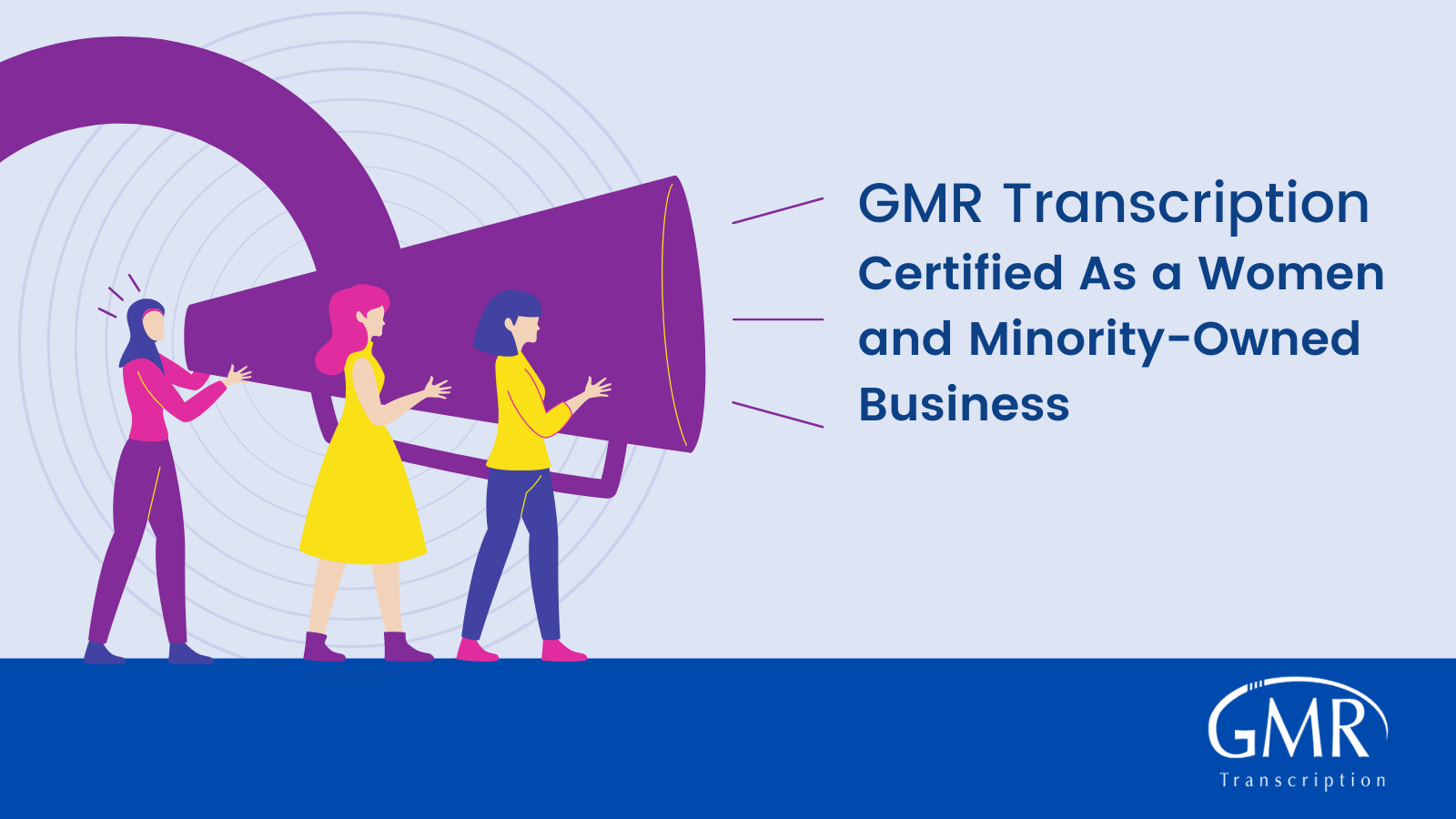 TUSTIN, CALIF. (PRWEB) JULY 19, 2021
Supplier Clearinghouse has certified that GMR Transcription is at least 51 percent owned, operated, and managed by women and a minority group. Supplier Clearinghouse grants certification to give underrepresented businesses a wider range of opportunities.
"Our team is excited to receive this certification," said Beth Worthy, President of GMR Transcription. "We are proud to be 100% women-operated and managed company. This certification opens up new doors to business and organizations with preferences to women and minority-owned vendors."
GMR Transcription was originally founded in 2004 by Ajay Prasad. His goal was to provide high-quality transcription services by using human-based typists. Worthy joined the GMR Transcription team soon after and helped grow the company to a million-dollar revenue business.
Worthy was promoted to President in 2019 and has exclusively worked with a team of women to run GMR Transcription. They have now served over 11,000 clients across the US and worked with various organizations, including Fortune 500 companies, research universities, and law firms.
---
About GMR Transcription
GMR Transcription is one of the prominent California-based transcription and translation service companies. The organization relies on its skilled, dependable, and experienced team of US-based human transcriptionists. The GMR Transcription team ensures to process and deliver accurate and high-priority transcription and translation projects for individuals, private organizations, public corporations, government agencies, and academic institutions. With quick turnaround times, over 6 million minutes of transcribed audio, and more than 11,000 satisfied and happy clients, GMR Transcription is your trustworthy organization for transcription and translation services.
For more information, please visit GMR Transcription official website.  
News Source: PRWeb
You may be interested in these jobs
Found in: beBee S2 US - 2 days ago

---

Highmark Health

Jackson

Full time

**Company :** · Highmark Inc. · **Job Description :** · **JOB SUMMARY** · Under general supervision, responsible for enrollment and billing activities for the membership, enrollment & billing department. Performing membership and billing activities for clients and/or members. Dut ...

Found in: Jooble US - 2 days ago

---

Longhorn Steakhouse

Gadsden, AL

For this position, pay will be variable by location - plus tips. · It's all about the door and so much more. · The Host position is all about:Delivering Enthusiastic Hellos and Goodbyes · Clearing and Resetting tables for our guests · Managing the Lobby experience · Cleaning and ...

Found in: Jooble US - 1 day ago

---

PRN Healthcare

Shawnee Mission, KS

PRN Healthcare is seeking a travel nurse RN Med Surg for a travel nursing job in Shawnee Mission, Kansas. · Job Description & Requirements · Specialty: Med Surg · Discipline: RN · Start Date: ASAP · Duration: 13 weeks · 36 hours per week · Shift: 12 hours, nights · Emp ...