Five Ways to Improve Your Small-Business Profits ... Now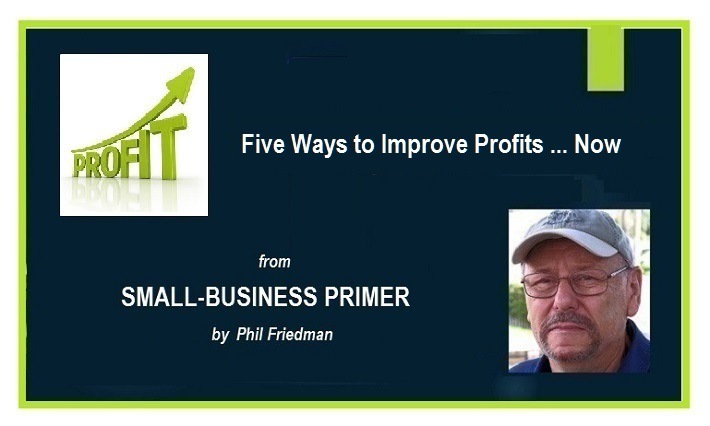 PRACTICAL STEPS FOR HIGHER GROSS PROFIT WITHOUT ADDED OVERHEADS...
Preface:  This is the first installment of a serialization of my upcoming eBook, Small-Business Primer : Real -World  Tips for Starting and RunningYour Own Small Business. Subsequent installments will be published at irregular intervals over the next year. Should you not want to wait for the serialization to run its course, details of how to secure a copy of the book in its entirety will be found at the end of this article.
The "case studies" cited in this series generally involve the reorganization and expansion of boatyard operations which I undertook over the last decade of so, as part of my core consulting business. Keep in mind, however, that the suggestions outlined here are equally applicable to just about any small business operation that sells products and/or services.

THE IMPORTANCE IN SMALL BUSINESS OF BOOSTING GROSS PROFIT AND GROSS MARGIN...
It's natural for many businesses to focus on sales and gross revenues. However, in a small-business environment,  higher sales numbers don't always mean higher profits. Depending on various factors, increased sales may actually lead to lower profits.
This is because most small businesses frequently fail to achieve the vaunted but highly elusive "economies of scale" available to big businesses. Often, additional sales volume actually overwhelms the company's established infrastructure and may require additional quantum investment in capital equipment, the bulk of which then goes underutilized.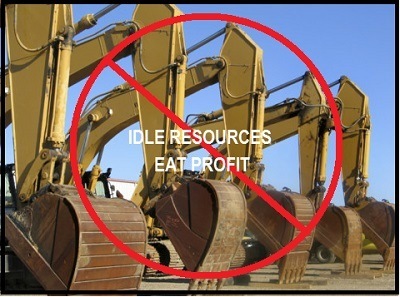 Incremental increases in sales may also require a disproportionate quantum increase in administrative and other staff costs, at a level that cannot be supported by the available increase in gross profit.
Consequently, in a small-business context, gross profit and gross margin are at most times, better performance indicators and decision criteria than gross sales revenue. They are also a good place to start when seeking to improve profits overall.
EVEN SMALL INCREASES IN RETAIL PRICING GENERALLY DROP STRAIGHT TO THE GROSS PROFIT LINE...

In many small businesses, relatively small increases in the retail pricing of urgent-demand goods such as engine oil and filters, drop straight to the gross profit line — indeed, often right to the bottom line.
The following example drawn from a recent consulting situation illustrates the power to boost profits through a relatively quite minor increase in retail price:
1. The small boatyard for whom I was consulting at the time performed about 1,000 engine oil changes per year.

2. Average number of oil quarts per engine oil change (including refilling the filter cannister) = 4
3. Existing retail pricing of engine oil per quart = $8.95
4. Wholesale cost of engine oil per quart = $5.37
5. Existing gross profit margin per quart = 40%
6. Gross profit per 1,000 engine oils and filter changes = $14,320.00
7. Raise retail price $1.00 per quart (total average raise in retail price = $4.00 per engine oil change)
8. New gross profit margin per quart = 46% (increase in gross profit margin = 15%)
9. New gross profit per 1,000 engine oil and filter changes = $18,320.00
10. Effective rise in gross profits on oil per 1,000 engine oil changes = 28% (from an 11% increase in the retail price of oil)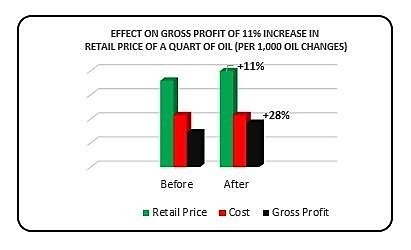 COMPETITIVE MARKET PRICING SHOULD ALWAYS BE TRACKED AND CONSIDERED ...

During the course of studying the retail pricing structure for batteries, which the yard was selling and installing, we also noticed that the operation was charging on average about $25.87 less per battery the local store of a dominant national marine goods mass merchandiser. And the mass merchandiser's price was for carry-out,  DIY installation, whereas the yards pricing included installation. Annual battery sales for the boatyard were running to more than 1,000 units, across the gamut of groups 24, 27, 31, 4D, and 8D.
To be sure, the boatyard was purchasing its batteries from a local supplier at very advantageous wholesale pricing, and the existing gross margin was significantly better than break-even. And to be sure, it is difficult at times to get more at retail for batteries than the low DIY carry-out price offered by mass merchandisers.

But because at equal pricing, there was no advantage to a customer for him or her to pick up and tote heavy batteries back to his or her boat, there was absolutely no reason to charge less. The existing boatyard retail pricing for batteries was the result of an arbitrary cost-plus template — which is something that almost always should be rejected if your small business is to achieve acceptable levels of profit.
Consequently, we moved immediately to raise the boatyard's retail pricing on batteries to match that of the competing mass merchandiser ― with the result that annual gross profit for this boatyard on maintenance and service goods rose more than $25,000, in a flash.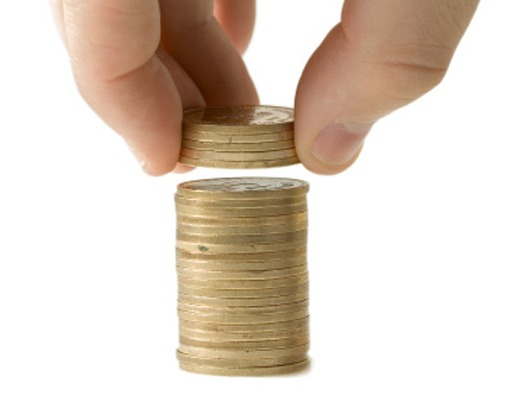 Apply the same reasoning, evaluation, and procedures to every item that you sell — whether it's oil filters, engine water intake impellers, O/B and I/O engine lower unit lube, or other goods ― and the results start to build into the tens, or even hundreds of thousands of dollars additional gross profit. All by applying price changes your customer base will likely not resist if it even notices at all.

Understand that the objective is not to gouge or overbill your customers or clients, but rather to apply retail pricing raises to those items for which such raises will be readily accepted. The idea is to price according to what the market will bear, and not in accord with some arbitrary cost-plus template that, in my experience, inevitably results in lower profits than might otherwise be attained.  For small pricing changes in small-business contexts, more often than not, produce a relatively big boost in profit, without adding to overhead expenses.  —  Phil Friedman
Author's notes:   The next installment will deal with boosting profits by improving your capture of billable service hours.
If you found this article of value, you  might also want to look at some of my other writing about small business operations, management, and marketing:
"Avoid the Pitfall of Excessive Positivity"

"Common Myths About Starting Your Own Small-Business"

"Small Businessman's Primer to Inbound Marketing"
"Maximizing Throughput on Fixed Assets and Overheads"
"Small Businesses Need to Keep a Close Eye on Gross Profit"
For information on securing a copy of  "Small-Business Primer : Real -World Tips for Starting and RunningYour Own Small Business", email  phil@portroyalgroup.com and put "small-business book" on the subject line.

To receive notifications of my writings on a regular basis, click the [FOLLOW] button on my
beBee profile
. As a writer-friend of mine says, you can always change your mind later.
Feel free to "like" and "share" this post and my other LinkedIn articles — whether on LinkedIn, Twitter, Facebook, or Google+. I ask only that you credit me properly as the author, and include a live link to the original work.
If you are interested in yachts, are allied with the yacht building industry, or operating a small business in another sector, you should consider joining my beBee Hive,
THE PORT ROYAL GROUP for Yacht Builders, Buyers and Owners
where you will find experienced industry professionals discussing a wide range of topics. The ongoing conversation is always interesting, informative, and 100% industry insider.
Finally, If you would like to discuss marketing, management, or other issues you face in your efforts to join the ranks of small business, email or message me to arrange for a free, no-obligation, 1/2-hour initial consult.

About me, Phil Friedman: With 30 some years background in the marine industry, I've worn numerous hats — as a yacht designer, boat builder, marine operations and business manager, marine industry consultant, marine marketing and communications specialist, yachting magazine writer and editor, yacht surveyor, and marine industry educator. I am also trained and experienced in interest-based negotiation and mediation. In a previous life, I taught logic and philosophy at university.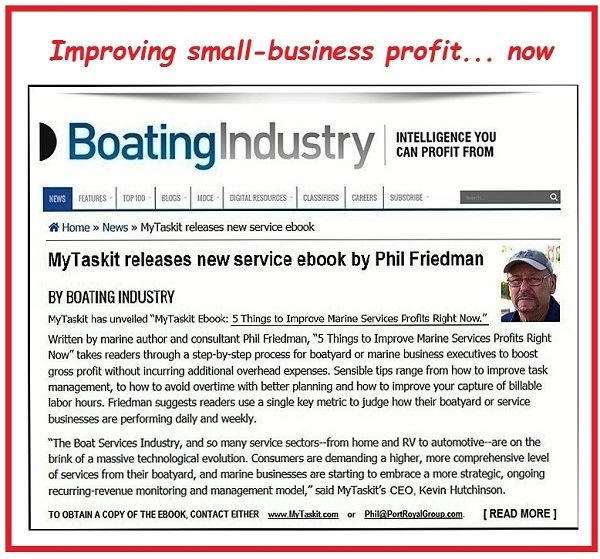 """""""
You may be interested in these jobs
Found in: Jooble US - 13 hours ago

---

Health Providers Choice

San Antonio, TX

Must have at least 2 years of recent experience in specialty applying for. American Heart Association BLS Certification is required. ACLS, PALS, TNCC, ENPC, NIHSS, etc. may also be required for some units (Career Placement Specialist will specify). · PID: 653470 JOB BENEFITS PAC ...

Found in: Jooble US - 9 hours ago

---

GreatAuPair LLC

Frisco, TX

Full time

Get hired for Sabel's aupair Job in Frisco, TX. Dallas family looking for aupair/housekeeper. Find aupair care work in Frisco.

Found in: Jooble US - 3 days ago

---

My Medical Career

Sallisaw, OK

Interested in Online Medical Billing & Coding Training? My Medical Career Can Help Rapid ONLINE Training · National Accreditation · Financial Aid Assistance* · Career Placement Services* · Medical Billing & Coding - HIGH JOB OUTLOOK RATE · The medical field plays a vital role ...