5 years ago · 3 min. reading time · visibility 0 ·
E-mail Etiquette: To Cc or Not to Cc, That is the Question...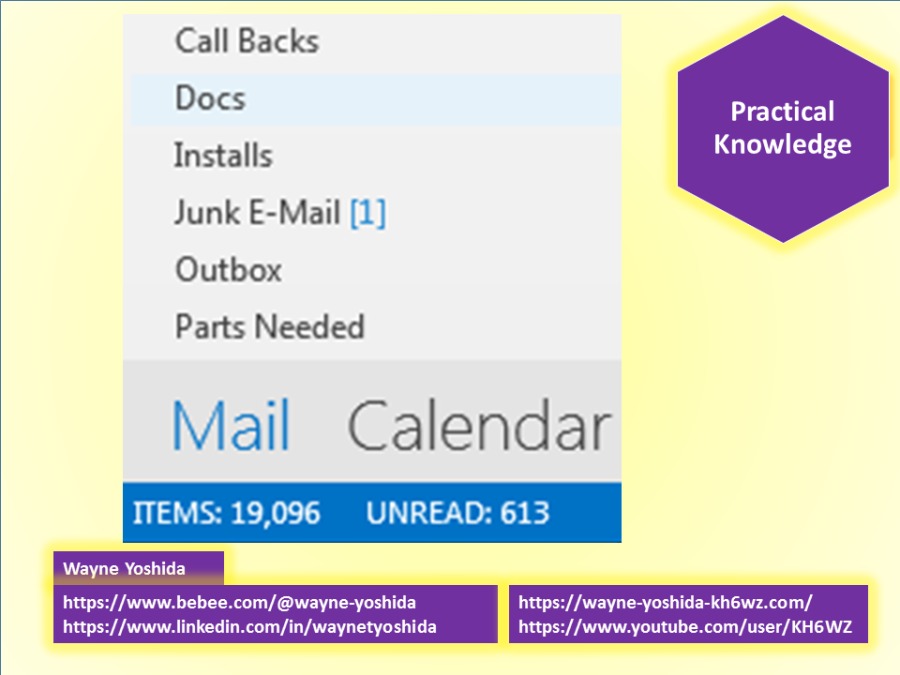 This is from a co-worker and it is so good, I decided to share it with a wider audience. With some slight edits and some additional hints of my own, here are some things that should help enhance communication via e-mail.
All correspondence is a reflection of a company's image, so it is imperative to produce professional and grammatically correct messages. Use spell check and common sense before pushing the send button.
Address Your E-Mail Specifically
Make sure the message addressee is in the "To" field, and those that just need to know are in the "CC" field. When multiple addressees are listed, and you need a specific response from a specific individual, make sure this is known so everyone does not respond (duplicating efforts) or worse, nobody responds.
Be Judicious Who You CC
This is important. I know it is hard to believe, but the CEO, COO, VP, Sales Director, et al are very busy people and do not need to be copied on every discussion. If someone needs to act, the e-mail should be sent "To" them.
Your Subject Line Must be Clear
The subject line must reflect the situation and should be short, simple and descriptive. Help everyone keep track and easily sort messages by including good key words such as the customer or company name, project or case tracking number or something that will help the e-mail search function find messages quickly.
Here are some examples
Poor: "A Problem Today"
Better: "Service Ticket 2365, Repair Procedure Update Needed"
Poor: "Help"
Better: "XL Tracking Worksheet Template Corrupted"
Of course, no one has much control over what comes into our mailboxes - but, it might be OK to change the subject line to clarify what the message means. Be careful when you do this, because it may confuse the sender.
Discuss Only Public Matters
E-mails are prone to forwarding and thoughtless responses, and can happen intentionally or accidently. So it should always be assumed messages will extend beyond the intended audience.
Be aware of insider trading rules and understand how to protect yourself and your company against insider trading. There are many examples of insider trading, and e-mail trails are often used as evidence.
Summarize to Simplify and Get to the Point
I hate it when I have to read a long string of e-mails to piece together a story. If the situation is not readily apparent to the recipient, summarize the situation and then get to the point of why you sent the e-mail and what is needed.
Message Structure
There is something called the Minto Pyramid Principle (Logic in Thinking and Writing), which is a guide to help increase business communication effectiveness. The format includes a Situation, Complication, Question and Answer (SCQA). In short, if there is no situation and complication, there could be no question or answer required – so there is no need for any message.
This is similar to the inverse or inverted pyramid writing style used by journalists, but with a slight difference.
Refrain from Sending One-Liners
"Thanks," and "OK" do not advance the conversation in any way. Feel free to put "No Reply Necessary" at the top of the e-mail or in the subject line if you don't anticipate or need a response.
Examples of confusing exchanges – and suggestions for improvement - via e-mail:
Confusing and Ambiguous
Sent: Can we discuss via conference call about the new design tomorrow (10/18)? I am free between 2 pm and 4 pm.
Received: Yes!
Specific and Clear
Sent: Can we discuss via conference call about the new design (Project 20189) tomorrow (10/18)? I am free between 2 pm and 4 pm.
Received: Let's go with 2:30. I will setup the GoToMeeting. See you then.
Be Careful with "Respond to All"
This is the opposite of the "CC." If you are on a CC list, your response may or may not be needed. However, if you feel the need to respond, it should be sent only to the person that sent the message. Hopefully, the sender carefully considered who to include in the CC list.
Use a Complete Signature Block
You never want someone to perform a search in order to get in touch with you. Just like our LinkedIn profiles, make it as easy as possible for others to contact you. Include your telephone numbers and street address. For those folks who expect people to respond via e-mail so they do not need to include a physical address, remember that a street address is still required for package deliveries and personal visits to your location.
Do Not Return Receipt Everything
This is very annoying and, for people that have it turned on for all e-mails, I always over-ride it. I have my return receipt set to "never send."
These are just a few hints for clear communication, and I hope you will think about and use these guidelines as you create or respond via e-mail. Of course, sometimes it is faster and more convenient to just pick up the phone, and call someone.
As with all of my Buzzes, additional suggestions and comments are welcome.
About Wayne Yoshida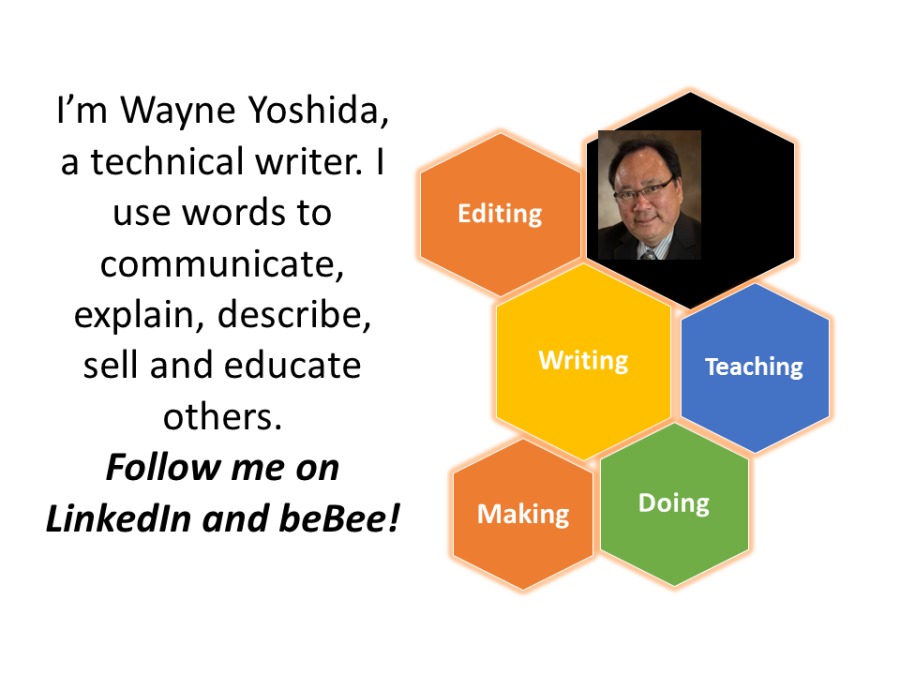 Wayne Yoshida is a technical writer and education advocate with sales management experience. Wayne currently works in the
alternative fuel vehicle
(AFV) industry and has worked for a wide variety of
high technology 
companies, including
aerospace and defense
, 
photonics, lasers and
opto-mechanics
,
two-way radio
, 
telecommunications
and a
non-profit, educational organization
. His personal passion for
electronics and Amateur Radio
opened many doors to some very interesting personal and professional experiences. Working as a ham radio consultant for the NASA Johnson Space Center during Space Shuttle mission
STS-9
is his
most memorable experience.
Connect with him on
LinkedIn
 and 
beBee
, and for a look into his personal passions, follow his 
blog
.""