11 months ago · 1 min. reading time · visibility ~10 ·
DISAPPOINTED TRUMP MILITIAMEN REFUSE TO ACCEPT ELECTION RESULTS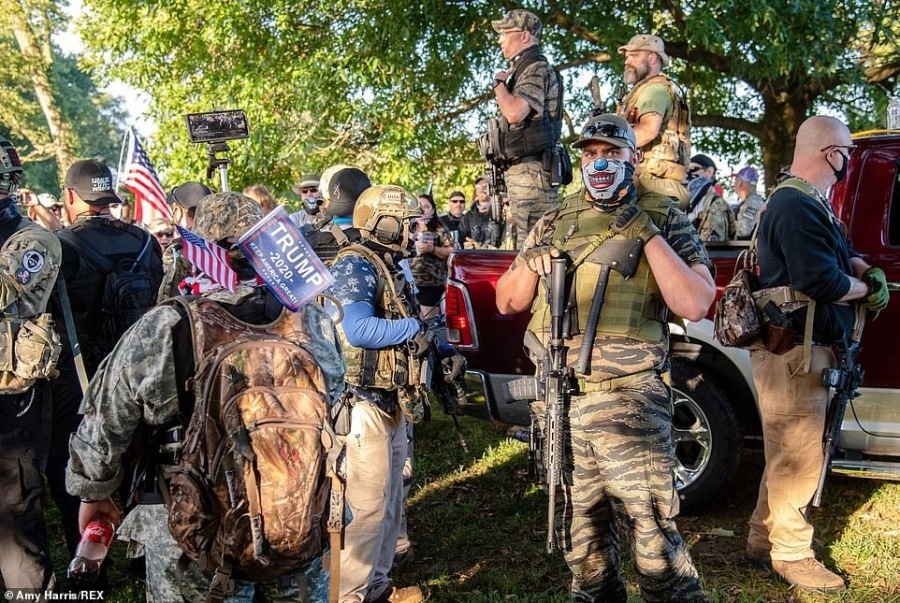 It may be all over for Donald J. Trump's presidency (except for the crying, blaming, and lawsuits), but it appears Joe Biden is America's next president.
And that has some of his most ardent fans enraged.
"This shit will not stand," Tom Ribbens, leader of The Trump Troops, told The Lint Screen. "Donald Trump will always be our leader and savior. He gave us a reason to wake up every morning and dress like army men and claim victimhood for the unfair way society abuses white men."
"I'm not accepting the election," said Frank Waterloo, a disgruntled militiaman with a chip on his shoulder. "Joe Biden will never be my president because he cheated in the election. Who ever heard of counting all the votes? That's un-American, and I ain't standing for it."
"It's the deep state," said Ken Olermin. "They conspired with the fake news media to try a coup against America's greatest president, Donald Trump. It's not right. Tucker, Hannity, Rush, Alex–– they know the score and told us the truth. True Trumpers worshipped the man. But Biden cheated him."
Olermin spits on the ground and shakes his fist as he continues his inane blathering.
"Hell, Rudy went and tracked down Hunter Biden's laptops. I think they had the steal the election conspiracy plans and Hillary's emails on them. But the fake news media wouldn't report it because it was the honest to God truth. They only tell fake news. It's disgusting."
Terry Mansent approached his comrades in arms with a distraught expression of doom.
"Hey, guys," he said as he looked over his shoulder at his band of brothers. "Do you think these camo pants make my ass look big? Be honest. I need to know."
The men circled the soldier with critical eyes.
"No, dude," Charlie Westlake assured his friend. "They fit you real nice. Compliment your manly buttocks. I also like the way they ride on your thighs. I think they're pretty slimming, Terry."
"They're sexy as hell, dude," Tim Mullimaker said. "I think they're a perfect fit. That camo really accentuates your lower physique."
"Thanks, guys," Terry said, his eye-watering. "That means the world to me. Sometimes I worry too much about my weight."
"Get over it, dude," Tom Ribbens said. "Camo hides everything, including cellulite. And remember, we need to keep our eye on the prize–– keeping Donald Trump president!"
The angry men cheered and began playing army again.
———————————————————————————————-
Enjoy PD Scullin's debut novel "SAWDUST: Love is wilder than a circus," a dark humor romp across America in the early '80s. You're a click away from a helluva fun ride. Buckle up and go.
You have no groups that fit your search