DESANTIS DECLARES "IF KIDS DIE FROM COVID, LET THEM DIE FREE"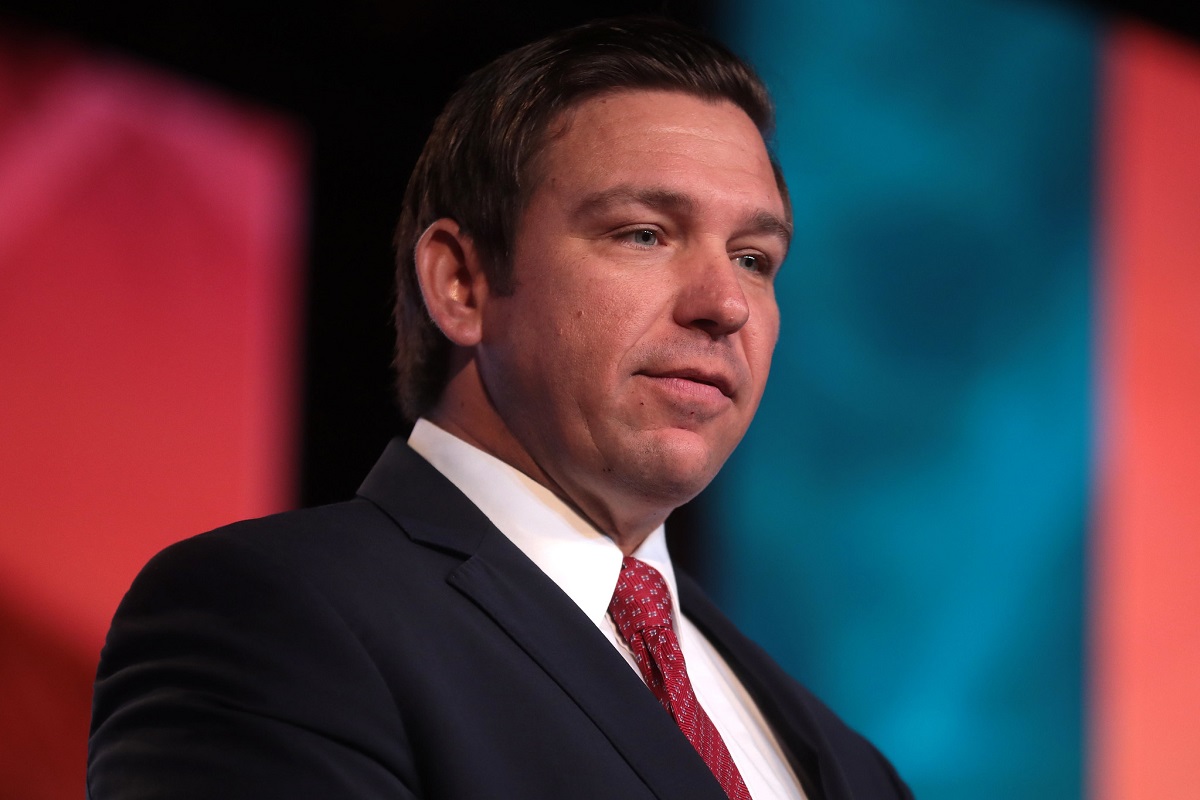 It seems The Republican Party is battling over who can be the most heartless, and in that showdown, Florida Gov. Ron DeSantis may be the champ.
While the Delta variant of COVID rages through the dong-shaped state, DeSantis had rejected mask mandates and even threatened to dock the pay of teachers and administrators who allow children to wear masks.
"Let kids be kids, for crying out loud," the guv tells The Lint Screen. "And if some kids get the COVID and die, at least we can take comfort in knowing they died free. I hope they also go while clutching a handgun or two because that's a God-given right too."
DeSantis is especially upset at President Joe Biden.
"Biden cheated Trump out of re-election," DeSantis claims, "and now he wants to cheat us out of our freedoms. Old Joe says we should all get vaccines. What kind of sick maniac wants to jab innocent people with needles and inject them with God only knows what? I suspect the vaccine may contain sperm from George Soros and that Biden wants us all to give birth to dangerous liberal thoughts. Things like empathy and compassion, and believing in stuff like science and experts. Well, not in my state, no sir!"
The slick-looking pol says he won't stand for the federal government telling him what to do.
"I'm the governor," he declares. "If I want to restrict peoples' rights and endanger my citizens, it's none of the government's damn business. COVID, in any flavor, is a state's rights situation, and I make the rules, dammit."
Many believe the Florida governor may be jockeying for position in a presidential run in 2024.
"That's poppycock," DeSantis says. "I fully back the reinstatement of Donald J. Trump, and after he serves his second term, well, I suppose he won't be able to serve again. Unless he wants to run again, in which case I support him 100% because he is my idol and our glorious leader forever and always."
———————————————————————————————-
Read PD Scullin's debut novel "SAWDUST: Love is wilder than a circus," a humorous ride across America with a circus in the early '80s. This book has earned 100% 5-Star reviews on Amazon. Act now and save during pandemic pricing. You're a click away from a fun, unforgettable ride. Buckle up and go.
You may be interested in these jobs
Found in: Jooble US - 5 days ago

---

Operations Associate - Shops @ Rio Grande · Location: Edinburg, TX, United States - Shops @ Rio Grande 419 E Trenton Rd · Job ID: 1097596 · Store Hourly Positions · Job Type: Part-Time · Date Updated: Oct 31, 2022 · General Description · The Operations Associate's role is to crea ...

Found in: Jooble US - 3 days ago

---

Position Summary... What you'll do... · Walmart, the Fortune #1 Company and the nation's largest private employer, is helping people save money and live better, healthier lives. We strive to be a center of wellbeing in the communities we serve, and we have a unique opportunity ...

Found in: beBee S2 US - 2 days ago

---

Miami University (Ohio)

Oxford

Full time

Computer Science & Software Engineering: Associate or Full Professor to teach, advise, and provide an active program of scholarship and service to the profession and the university. This candidate will provide leadership as the Director of the Center for Cyber Security within the ...