8 months ago · 1 min. reading time · visibility ~10 ·
DEMOCRATS HATE GOD, THAT'S WHY THEY HATE TRUMP, DEFENSE SAYS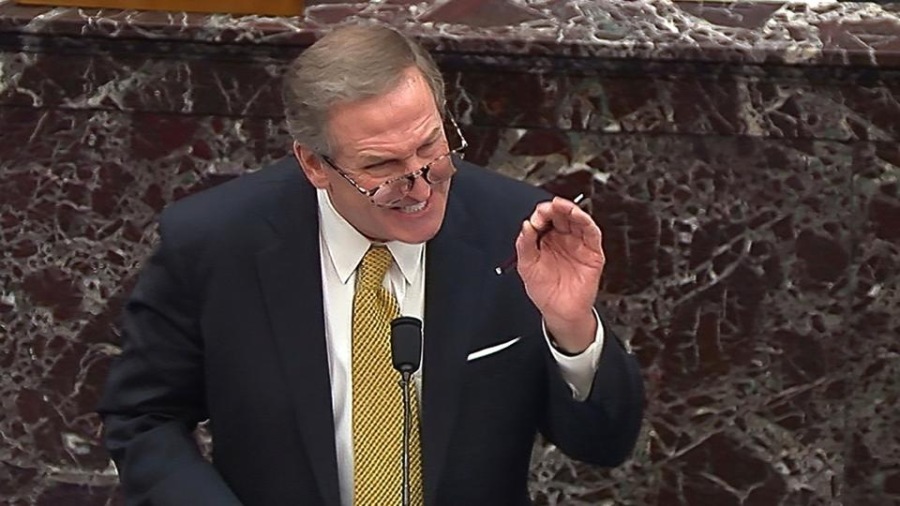 The defense team for disgraced former President Donald J. Trump made the case yesterday that religion is at the root of his second impeachment.
"Democrats have always hated God," Trump lawyer Michael van der Veen said. "They are led by Satan, so naturally, they hate Donald Trump. They refuse to acknowledge that Trump is The Chosen One our Lord has sent to save mankind."
van der Veen plead his case with righteous indignation, an attitude sure to please his master watching on TV in Mar-a-Lago.
"This impeachment is a total witch hunt," van der Veen said. "The Democrats say Trump incited an insurrection when we all know the president told the crowd to go peacefully. Like Jesus Christ, Donald J. Trump has always only acted with love in his heart. He cares deeply for morality, dignity, and civility for all people."
The defense attorney plead the case that Trump's call with Georgia Secretary of State Brad Raffensperger was done in the interest of justice.
"The president's call was done to sort out a grave injustice," van der Veen said. "Everyone knows Donald J. Trump won the election in a landslide. He won all 50 states, he told us this himself– and as I have already proven beyond a shadow of a doubt, ex-President Trump is The Chosen One, sent by our Creator. He would never lie! I think this accusation is proof of the moral bankruptcy of the Democratic Party. Trump was calling Raffensperger to correct the obvious injustice inflicted on him. Donald Trump was politely requesting 11,780 votes to right the wrong. He was doing God's will!"
van der Veen believes the Democrats and any American who doubts the divinity of Donald J. Trump is destined for an eternity in hell.
"I don't know how much clearer I can state my case," van der Veen said in summation. "Donald J. Trump would never lie, incite violence, or do anything against his fellow man. Anyone who says differently is guilty of refusing God, and thus, destined for a lake of fire."
van der Veen ended his defense by leading the Republican Senators in a prayer and pledge of eternal faith to their master, Donald J. Trump.
———————————————————————————————-
Enjoy PD Scullin's debut novel "SAWDUST: Love is wilder than a circus," a humorous romp across America with a circus in the early '80s. You're a click away from a helluva fun ride. Buckle up and go.
You have no groups that fit your search