10 months ago · 3 min. reading time · visibility ~10 ·
Consultant Marketing Your Voice
Say what?
The right words can make you memorable at introduction. Past that you have to work at being quoted to become unforgettable. It's all about being current, consistent, and considered in your opinions.
You don't have to be controversial.
But it can help. What you want is to be heard. To do that you have to be real, straight up and willing to put yourself on the line. That's the only way you will be able to expand belief in your savvy outside the firm you work in. There are three levels of expertise in my view:
Your niche in the local market
Well known in our industry
A "leading light" in your industry
When you're building a business those three levels equate to Unforgettable, Indispensable and headed for Legendary. Being able to convey a contrarian viewpoint will limit your audience but enhance your fame.
Pick an approach
Find a way that is comfortable for you. Not everyone has to be the one that is noted for driving innovation. Not many can pull that off. But being the one that is like a forward scout can pay dividends. Being the source for everything going on in the industry can prove to be a powerful position. One benefit of that approach is that you have a large roster of experts to draw on. Or, you can narrow your focus. Knowing everything about one segment or technology in the industry can make you essential in some situations But most of us find it easier to connect two areas of proficiency. For me, it is marketing for consultants. Knowing how the crossover changes an approach tends to make you appealing to a slightly larger audience.
Stubborn counts.
The truth is that just about all business processes are burdened with an inherent need to stay the same. The same old, same old media outlets won't get you out in front. Thinking that doesn't challenge the "the way it has always been done" if just a little will go unheard. It will take time to get your point across so keep repeating it. The first time you are quoted to yourself will be an astonishing experience.
Quotes that have come back to me.
"People don't want to hear a commercial they want to have a conversation."
"Brand is an expression of Trust."
"You can influence brand but you can't control it."
"What you know is important, who you know matters but the single most important thing about building a business is who trusts you."
The payoff
Getting out in front by having a justified opinion pays dividends if you are an independent professional: According to a study conducted by Hinge Research:
46% of those surveyed found that their name recognition (personal brand) increased.
41% said it brought them business
38% cited increased credibility and reputation
The fact that those interviewed were asked to speak more often was a contributing factor to their capabilities as rainmakers for their firms and for about 1 in five of them to open their own firms. See Jerry's new speaker demo reel.
The ability to be more selective in the engagements selected and to demand higher fees are also direct results. Depending where you fall in your level of expertise you can increase your earning potential from 200% to 800% in your home country and over 1000% if you practice internationally.
An Added Benefit
The better known you become the easier it is to build alliances with other experts in your arena. Your network will increase in both numbers and quality. That is particularly true as you come to discover how delightful it is to find other minds that are a match for your curiosity and ingenuity. Imagine what it is like to have someone you have never spoken with recognize you at an event or eagerly accept your phone call.
Lazy won't get it
This is a skill that must be honed continually. How?
Read. Read everything that directly impacts on your area of expertise. Then read something that doesn't connect and find the connection. Don't accept anything at face value. Dig into it. Go find the scientific paper and decode it. Don't stop with the items mentioned on the first page of Google.
Write. Put pen to paper or exercise your keyboard skills to take the newfound knowledge and turn it into observations in your voice. Think it through. Does it change a previous view? Does it add to a process you've espoused? Can you put it in an emotionally approachable way and back it up with logic and data?

Voice. Take that information and put it to the test. Bounce it off some of the experts you have come to know. Listen to what they have to say. Publish it, first in your own social media outlets and then in commercial print media and broadcast interviews. Never stop listening. Parse the comments into additive and hidebound and stand your ground.
Try. There is no test like putting your observations to work. Clients will want you to do so. In the end, the outcomes your views produce will be the most telling argument. But first, you gotta find your voice. See Jerry's new speaker demo reel.
And so it goes.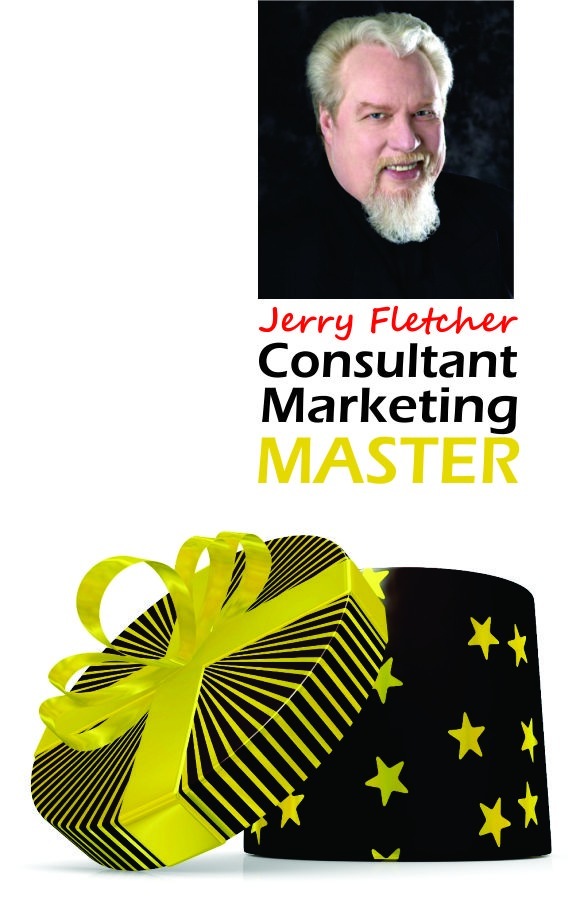 Jerry Fletcher is a sought-after International Speaker, a beBee ambassador, founder and CEO of Z-axis Marketing, Inc.
His consulting practice, founded in 1990, is known for on and off-line Trust-based Consultant Marketing advice that builds businesses, brands and lives of joy.
Consulting: https://www.JerryFletcher.com
Speaking: https://www.NetworkingNinja.com
You have no groups that fit your search