Closed-eyes & Hard-hearts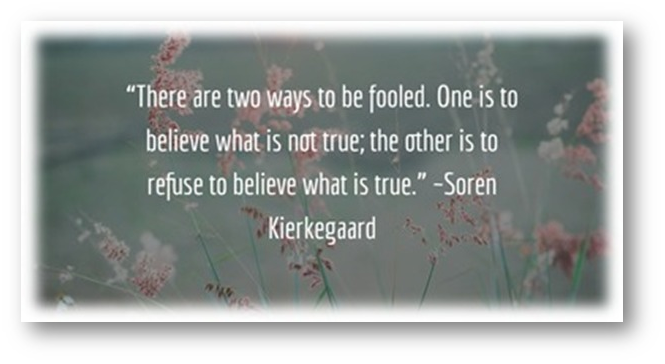 How often do you stop to consider that the condition of your heart affects your ability to see & understand? This is heart-attitude.
Heart-attitude is a matter of perspective and will.
What is inherent in human nature that makes people unable to see?
I mean to perceive. To understand. Which is deeper. This is discernment.
What limits our ability to perceive & to understand which in turn contributes to the distortion of reality & truth?
A simple truth:
As much as time changes things, this one thing does not change: people see what they want to see … hear what they want to hear … and believe what they want to believe. Truth is NOT the Standard.
Here is why:
"Their minds are full of darkness; they wander far from the life God gives because they have closed their minds and hardened their hearts against him." Ephesians 4
"Closed eyes"
A person has eyes ... but chooses not to see.
This is "willful ignorance."
This is "chosen blindness."
"Willful ignorance proves that fools exist." fem-v
"Willful ignorance is the state of being ignorant about something out of choice." ~ Zacharias Voulgaris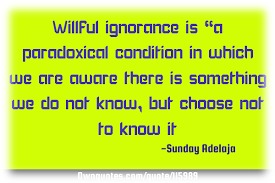 Closed eyes produce closed-minds. Both are the enemy of understanding.
Closed eyes & closed-minds impede personal & spiritual growth. Limit learning, comprehension & understanding. Veil: imagination, curiosity & creativity & ideas.
"We close off our minds at our own peril." ~ Harvey Lloyd

 
"Hard hearts"
A hard-heart is the enemy of your soul. This heart condition: blinds your eyes, dulls your spirit & robs your capacity for Love, Life & Learning
It is written:
"Above all else, guard your heart, for it is the well-spring of life" ~ Proverbs 4
Your words flow out of your heart before they fill your mind. Perspective & attitude are shaped in & by your heart. 
"From the overflow of the heart, the mouth speaks" ~ Luke 6
"The condition of your heart is probably one of the greatest secrets to optimize personal capacity.
Who you are … what you become … your destiny resides in your heart. ~ fay vietmeier
People with closed-eyes & hard-hearts have always been present. In every generation since the beginning of mankind.
However, those with "closed-eyes" & "hard-hearts" seem to be growing in a "corona-like" way.
A simple truth:
… Physical problems require physical cures …
… Spiritual problems require spiritual cures …
Willful ignorance, chosen blindness and hard-heart are spiritual problems. Spiritual conditions.
The cure is spiritual.
Sadly: for those suffering from willful ignorance, closed-eyes and hard-hearts ... the cure will not be sought. For there is not a recognition of the condition. Thus, no desire to be well or to be healed.
You'll never find the solution if you don't see the problem. ~ Gilbert K. Chesterton
Here is good news:
"When the heart is ready the feet are swift" ~Abraham Lincoln
"When your heart is right with God … your life will follow." ~ fem-v
If you desire to have your eyes opened & your heart softened this will require spiritual surgery ... which can only be done with the help of the "Great Physician" … it is a supernatural procedure that occurs in a willing heart. It requires recognition of the condition & a desire to change.
Everything in life flows from your heart.
The condition of your heart vitally affects sight & understanding.
Eye-opening words from Jesus Christ
"Though seeing, they do NOT see; though hearing, they do NOT hear or understand."
"They have closed their eyes" 
This is an act of the will. The result is chosen blindness.
Here is the cause of the inability to see & hear: 
"This people's heart has become calloused (dull-hardened)
Otherwise they might see with their eyes, hear with their ears, understand with their hearts and turn, and I would heal them." ~ Matthew 13
The life-imparting, life-transforming point that Jesus was making: 
Turn your heart toward God and be healed.
This too, is an act of will … AND it produces healing & blessing.
When Jesus finished explaining why he spoke in parables he said: "But blessed are your eyes because they see, and your ears because they hear." Matthew 13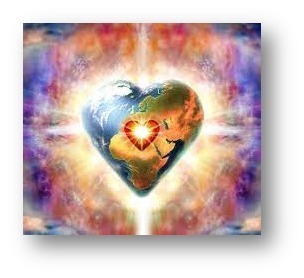 "Divine Art"
If you could see inside your heart.
Broken places … broken apart.
Has hope become a drought?
When did the Light go out?
Has the door been closed?
For uncounted reasons no one knows.
A disconnected heart so easily turns to stone.
Did you forget to forgive & refuse to atone?
Can wounds be healed that can't be seen?
Or does that just happen in a dream?
In "human-onions" … where does one start?
Peeling layers in the heart … this is Divine art.
~ Fay Vietmeier ~
https://www.bebee.com/producer/@fay-vietmeier-pennsylvania/the-heart-of-the-matter-is-the-matter-of-the-heart
https://www.bebee.com/producer/@fay-vietmeier-pennsylvania/are-you-suffering-from-full-cup-syndrome
https://www.bebee.com/producer/@fay-vietmeier-pennsylvania/human-onions-divine-art
https://www.biblegateway.com/passage/?search=Matthew+13&version=NIV
In honor of Zacharias Voulgaris for bringing to light such a vital issue.
https://www.bebee.com/producer/@zacharias-voulgaris/willful-ignorance-in-today-s-circumstances
November 1, 2020
In His Light I write
All rights reserved:  Fay Marmalich-Vietmeier 
If my words make you think … Great ;~)
As "iron-sharpens-iron" … I enjoy bantering with other BEES … please know, your feedback is as "honey"
A glimpse of the "Bee" called "me" ;~)
My caring nature makes me an advocate. My curious nature makes me a "queen of questions" … but gifted with the ability to listen ;~) I am a woman of deep faith, a blessed mother, a voracious reader, a blossoming writer, a grateful person, and a lover of beauty … I treasure family, true friendships and my loyal clients ... enjoy traveling, learning, good movies, good wine and golf. I'm a "heart-to-heart" communicator.
https://www.bebee.com/@fay-vietmeier-pennsylvania
https://www.linkedin.com/in/faymarmalichvietmeier/detail/recent-activity/
https://twitter.com/femvietmeier
https://www.facebook.com/fayemv
You may be interested in these jobs
Found in: Jooble US - 1 day ago

---

Aimbridge Hospitality

Billings, MT

Front Desk Agents are responsible for greeting and registering the guest providing outstanding guest service during their stay and settling the guest's account upon completion of their stay. Primary responsibilities include: registering guests making and modifying reservations ho ...

Found in: Jooble US - 1 day ago

---

Denny's Inc

Ridgeland, MS

Job Requirements · This job posting is for employment at an independently owned and operated franchisee of Denny's. · At Denny's, we love feeding people. If you have a passion for food and serving others, see what your future can hold at Denny's · As a Server, you're the guest's ...

Found in: Jooble US - 1 week ago

---

Join a locally owned Great Clips® salon, the world's largest salon brand, and be one of the GREATS Whether you're new to the industry or have years behind the opportunities await Come join our team We love to have fun at work and provide a GREAT experience to our clients. · We ...