ChatGPT as a Learning Resource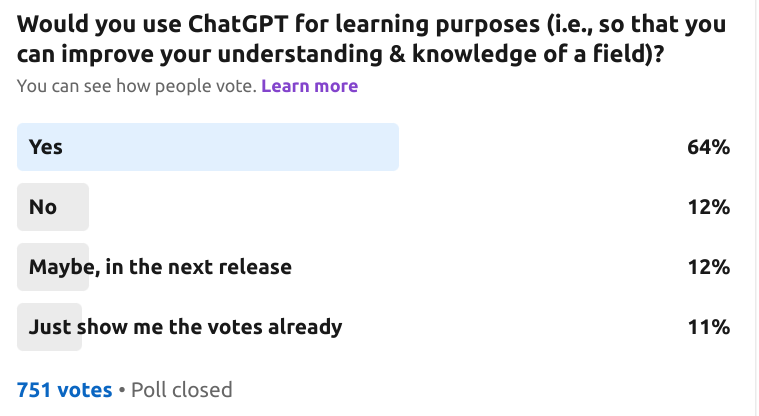 Source: LinkedIn
For the past three years, I've had an aversion towards LinkedIn, mostly because of the various trolls and strange accounts that alluded to them being manned by bots. Yet, since I joined a couple of groups there run by Robbert van Vlijmen from AIgents, I have changed my mind. Also, the poll feature, which seems to be prominent in the various LI groups, enabled me (as it has many other members of the platform) to better understand how people view certain matters of import. One such poll is the one that triggered this article, although the inspiration for it also stemmed from another social network I frequent.
I recently talked about ChatGPT on my blog, noting my first impressions of the platform. In all fairness, this stance of mine may have been influenced by the previous versions of GPT and the hype on LLMs, so I may not be the most unbiased source on this matter. In any case, learning more about what others think about ChatGPT and the value they derive from it has helped me refine my perspective (much like an AI model does as it's fed new data!).
Before we look at the insight and discuss them, here are a few caveats regarding this poll. The respondents were mostly data professionals or people knowledgeable about data enough to be members of a data science group like this one. So the sample is a bit biased. However, there were about 750 responses, so it should be somewhat representative of the population of that group. Naturally, as the platform is known to have various bots roaming around, the results may be skewed by their interaction with this poll. Additionally, the question was a bit vague (due to the character limit of the poll feature), and the results were categorical. So, someone might want to answer something like "60% of the time, depending on the use case"; this would get binned into the "yes" response. The same goes for something like "in a few niche cases," which would probably be classified as "no." So, it would be best to take the results of this poll with a pinch of salt.
The key insight of the poll is pretty obvious: about 2 out of 3 people would opt for ChatGPT as a learning resource. This finding is a bit surprising since one would expect data professionals to be aware that LLMs are optimal people-pleasers, and their confidence in their outputs doesn't match those outputs' veracity (more on that later). Then again, it's a nice new toy, which may have influenced people's view of this new tech and its educational potential.
It's also insightful how about 1 out of 8 respondents would wait for the next release before they decide. Considering how much improvement has taken place over the various iterations of this AI system, I can't say I blame them. Maybe the next release of the GPT software, whatever its name may be, gets it right and provide bullet-proof factual replies to the various prompts it receives. Maybe all these versions until now are just part of the validation process of the business behind it, a proof-of-concept of sorts. Since we don't have much to go on with, we can only speculate about these matters.
What we don't need to speculate about is the veracity (or lack thereof) of the various responses ChatGPT provides. Although it seems confident enough about the replies it yields, they may not always be the case. That's to be expected, considering it's an LLM, not the Oracle of Delphi or the fictitious supercomputer from the Hitch-hiker's Guide to the Galaxy (famous for figuring out the answer to life, the universe, and everything). So, you get what you pay for, that's for sure.
Despite all this, it's clear that ChatGPT has some real value-adds, be it in rephrasing a message in a formal style (to use in a professional email, for instance), providing some applicable information for a weight-loss fitness program, or even providing some key pieces of advice for dealing with emotional issues (though in such a use case, you are better off consulting a professional to tackle the root of the problem). Additionally, ChatGPT is very imaginative, making it potentially of value in fiction writing.
I've used a similar AI system this past year with some success, as I was a bit stuck while working on my new novel (I'm more experienced with technical books, so fiction writing poses a different kind of challenge!). As I feel a bit guilty for doing so, I decided to avoid using such services in the future, no matter how tempting. Others, however, may not share my moral inhibitions and may find ChatGPT the answer to all their literary prayers! Perhaps such input from the AI system may help them develop their writing style and "learn" to write better. At the very least, ChatGPT provides a grammatically correct text with proper spelling, something from which we can all benefit. This benefit includes the readers of that fiction work.
Back to the non-fiction realm, ChatGPT seems to be a value-add in coding as it enables newcomers (or people who are too busy) to put together some useful code to get certain tasks done without spending hours doing this work themselves. Naturally, one would expect this to work best for more mature programming languages that the AI understands better, so if you want to put together the next cool library in the V language (yes, this is a real programming language), you may be disappointed! Of course, someone would wonder what this language is (if you don't know it, trust me, you don't miss much!) and why someone would care about it. And that person may be right, yet the fact that she may never get exposed to it because of ChatGPT's ignorance on the matter is something of concern. Not for that programming language in particular, but for all the other pieces of know-how out there that are still new and without much code related to them to make them relevant to ChatGPT.
Recently I had a chat with a mentor on a topic of interest that I'm researching these days. He is someone in a very responsible position in a company that has clients all over the country, and he's very knowledgeable about tech. One of the insights he shared was that people learn something not through great presentations or talks, not even discussions, but through applying the stuff to which they've been exposed. This insight may not sound particularly original, but it's always good to be reminded about it, even if we have heard it before. Perhaps it's more applicable than ever before, as we are drowning in information, knowledge, and know-how. So, from this perspective, it's doubtful that ChatGPT will add any real educational value to anyone unless that person gets their hands dirty. And that's something no AI can do for us, no matter how refined and slick. Cheers!
"Avoid the precepts of those thinkers whose reasoning is not confirmed by experience." -- Leonardo da Vinci
Science and Technology
Articles from Zacharias 🐝 Voulgaris
View blog
You may be interested in these jobs
---

ConsumerAffairs

Tulsa, United States

Job Description · Job Description*** This role is in-person at our Tulsa, Oklahoma office*** · ConsumerAffairs helps consumers make smart buying decisions in moments of need. Every month millions of c ...

---

Aspen Dental

Nashua, United States

At Aspen Dental, we believe in doing just about anything to make our patients smile by going the extra mile. · Our practices are committed to treating patients with the compassion and respect they des ...

---

The Staff Pad

Pleasant Hill, IA, United States

The Staff Pad has partnered with a large, well-connected Healthcare System dedicated to helping you and your community live your best lives. · We are seeking a Sonographer III to join our client's sta ...