Biden to have Major negotiate with Republicans on infrastructure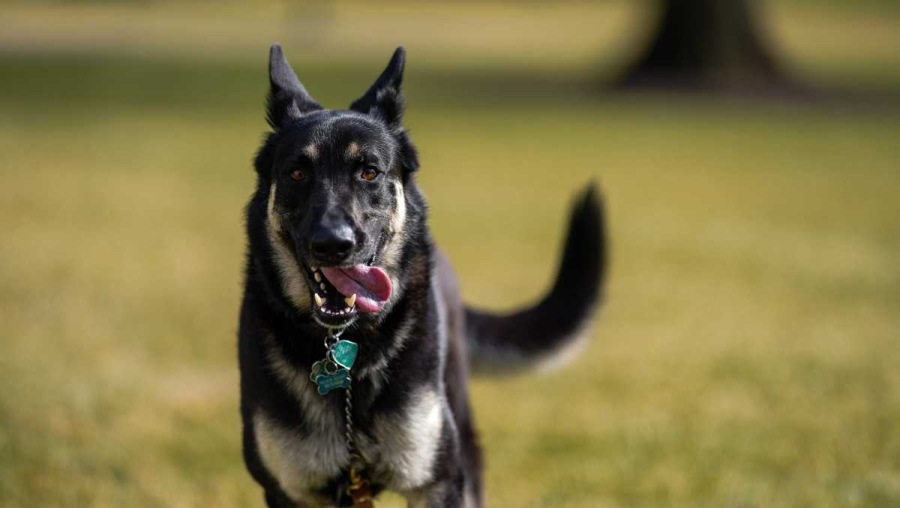 Donald Trump was not a pet person, but Joe Biden is, and the president has decided to put his pet German Shepherd "Major" do his negotiating with Republican Senators on Biden's infrastructure plan.
"I want this to be a bipartisan bill," Biden told The Lint Screen. "And I know Republicans will want to work with me in helping improve American life by improving our infrastructure. To do that, I want them to deal with Major. Although he is a dog, he is very bright, and he's a stickler for details. Major is also quite persuasive. He usually gets his way. I know my partners across the aisle will enjoy working with Major on this important legislation."
Senate Minority Leader Mitch McConnell was shocked when he heard of this development.
"You tell the president we can't work with a dog," the man with the turtle-neck said. "What's a dog know about anything? Dogs are dumb. I hate dogs. I'm not working with any damn dog. That's an insult!"
This reporter relayed the quotes from the Kentucky Senator to President Biden in The White House. Major growled when he heard McConnell's flippant response.
"Down, boy, down!" Biden said as he petted his pup. "Maybe Mitch is in a bad mood. Yeah, that must be it. Hey, Major, why don't you go down to the Senate and have yourself a little talk with Senator McConnell. Maybe you can persuade him you mean business. What do you think, boy– you like that idea? You like it, boy?"
The German Shepherd barked his agreement with his master, and darted out of the Oval Office. The dog bolted down Pennsylvania Avenue and into the Capitol Building.
An hour later, McConnell was removed from the Senate chambers on a stretcher. The Senator was bleeding profusely, and had ribbons of flesh dangling from his body. An aide said McConnell "accidentally fell down some stairs, and that the Senator was really looking forward to working with the president on the Biden Infrastructure Bill when it comes to the Senate."
Good boy, Major! Good boy!!!
——————————————————————–
Read PD Scullin's debut novel "SAWDUST: Love is wilder than a circus," a humorous ride across America with a circus in the early '80s. This book has earned 100% 5-Star reviews on Amazon. Act now and save during pandemic pricing. You're a click away from a fun, unforgettable ride. Buckle up and go.
You may be interested in these jobs
Found in: Jooble US - 3 days ago

---

Founded in 2007, HOMAGE turns back the clock with shout-outs to eclectic moments and personalities in sports, music, politics, and popular culture through vintage inspired merchandise. HOMAGE's mission is to connect and inspire through storytelling. Who are HOMAGE team members? H ...

Found in: Jooble US - 3 days ago

---

Kootenai Health

Hayden, ID

About the Job In this role, you will be responsible for vitals, injections, basic triage and should be able to assist in minor procedures. In addition, you should possess a solid understanding of medical terminology, computers, and phones. In this role, you will provide excellent ...

Found in: beBee S2 US - 2 days ago

---

Pizza Hut

HEBER SPRINGS

Full time

Buckle up, hit the open road and start making hungry people happy as a delivery driver for Pizza Hut®. That's right, we'll pay you to cruise around in your mobile office - your car - listening to your own tunes and delivering great pizza - and pasta. · What more could you want? I ...