An Accessible Approach to Humanity-Centered AI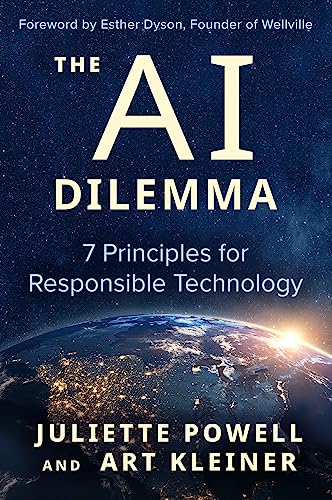 I've been reading again. . .
I resisted reading The AI Dillemma. I'm a uber-late-adopter of technology and therefore allergic to technical treatises. I needn't have worried. This isn't a technical book, it's a book about the societal implications of a new technology. It is very readable.
Also I was torn between the sphincter-tightening news reports of AI's dangers and my son's b review of Chat GPT "Yeah, I've used it. It's a helpful tool sometimes." The book turns out to be a balanced view of algorithmic, autonomous, automatic systems, what the authors call Triple-A systems, to further define artificial intelligence.
Powell and Kleiner present the dangers of AI, but not in a scare-mongering way. More importantly they posit the view that we are at a critical point in the introduction and use of this technology. They present a way to ensure it is used to the benefit of society and to avoid it's moste egregious abuses.
They present four different lenses, what they call "logic sets," with which to view and shape the technology and seven principles to which to adhere. There are lessons for technologists, activists, politicians, and everyday technophobes like me.
Lenses and principles are a necessary, but insufficient catalyst for change. It will take coalitions of people, of whom the authors reference some, and action.
I'm very glad I read this book; I hope a critical mass of potential change agents also read it. I'm convinced after reading it that this is a critical time in the introduction of AI, that it has huge implications for how society will be shaped, by Triple-A systems and that we all have a role to play in how it is developed and used going forward.
Science and Technology
You may be interested in these jobs
---

Vera Bradley Sales, LLC

Dawsonville, GA, United States

Support and maintain the integrity of the Vera Bradley "experience" through exceptional customer service, upholding store image standards, maximizing sales and assisting in store operational needs. · ...

---

Denny's

Fredonia, NY , United States

Denny's - 10390 Bennett Road [Restaurant Associate / Greeter / Team Member] As a Host/Hostess at Denny's, you'll: Greet and welcome all customers immediately upon arrival; Resolve complaints and assis ...

---

SAS Retail Services

Reno, NV, United States

Part time

Why us? SAS Retail Services is part of the largest retail services company in the US, working with major consumer brands in Walmart stores in your area. · We display it, we move it, and we track it ...