3 years ago · 2 min. reading time · 0 ·
American Grammar Checkup: Four+ Odd Punctuation Rules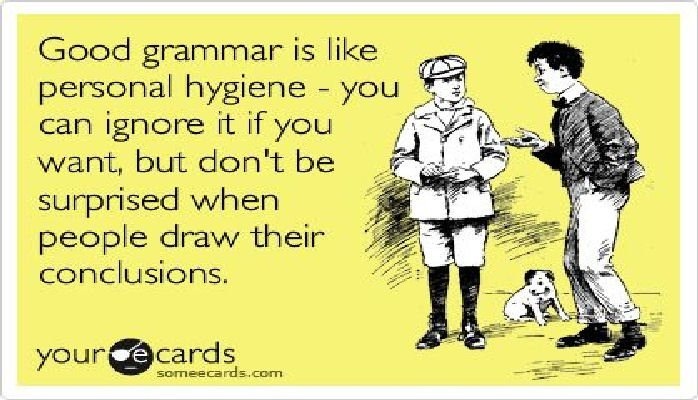 I am certain every language has its own ways that might not make absolute sense in terms of spelling, usage, or punctuation. Heaven knows American English does!
So, for your edification (how's that for a big word?), here are a few punctuation rules that make no particular sense, but are still rules.
1. Usually multi-word terms such as high level, black and white, or face to face are hyphenated when they come before a noun and act as an adjective. But they are not usually hyphenated when they don't come in front of a noun.
A high-level meeting is held at a high level.
A black-and-white cloth is black and white.
A face-to-face meeting is obviously held face to face.
2. But: Terms ending in "free" are always hyphenated, no matter where they are in a sentence.
Examples: Error-free, taste-free, acid-free, worry-free, fat-free. It doesn't matter how they're used; they're hyphenated.
An error-free message is our goal. Let's make sure the message is error-free.
Don't eat that donut! It isn't calorie-free!
The tax-free holiday is coming soon; everything will be tax-free!
3. Multi-word terms coming in front of a noun are normally hyphenated to connect all the parts that make up a single thought.
A 9-year-old child (two hyphens required to connect the parts), but he is 9 years old. (Here, you'd also hyphenated the compound noun – a 9-year-old.)
An up-to-date report is up to date.
The developer is building three-level houses, which will have three levels.
BUT: Words ending in "ly" can be confusing because the rule states we don't hyphenate them when they're adverbs, only when they're adjectives.
How would you know the difference between adjectives and adverbs ending in "ly"?
Put the word that ends in "ly" in front of a noun; if it fits, it's an adjective, which modifies a noun. If it doesn't, it's an adverb, which modifies many things (adjectives, verbs, a word group, or other adverbs), but not nouns.
A friendly woman? Yup. Adjective. So a friendly-looking woman.
A heavenly massage? Yup again. Adjective. So, a heavenly-feeling massage.
A wholly subsidiary? NO. Adverb. So, a wholly owned subsidiary.
A poorly house? NO. Adverb. So, a poorly designed house.
4. And finally, let's look at quotation marks. The American rule states that we never use single quotation marks except when quoting some word(s) within a quotation. We never use them by themselves. Why not? Heck if I know, but we don't.
NO: John thinks Joan is a 'geek.'
YES: John thinks Joan is a "geek."
YES: John said, "I think Joan is a 'geek.' "
4.5 Commas and periods ALWAYS go inside final quotation marks. They just do. Always.
So, are you shell-shocked yet? Yes, American grammar is strange sometimes, and all I can do is show you the rules as I know them to be. You have to decide if you want to follow them.
Are there other grammar and usage issues that you're unsure of? Talk to me / us here! Let's all learn together.
******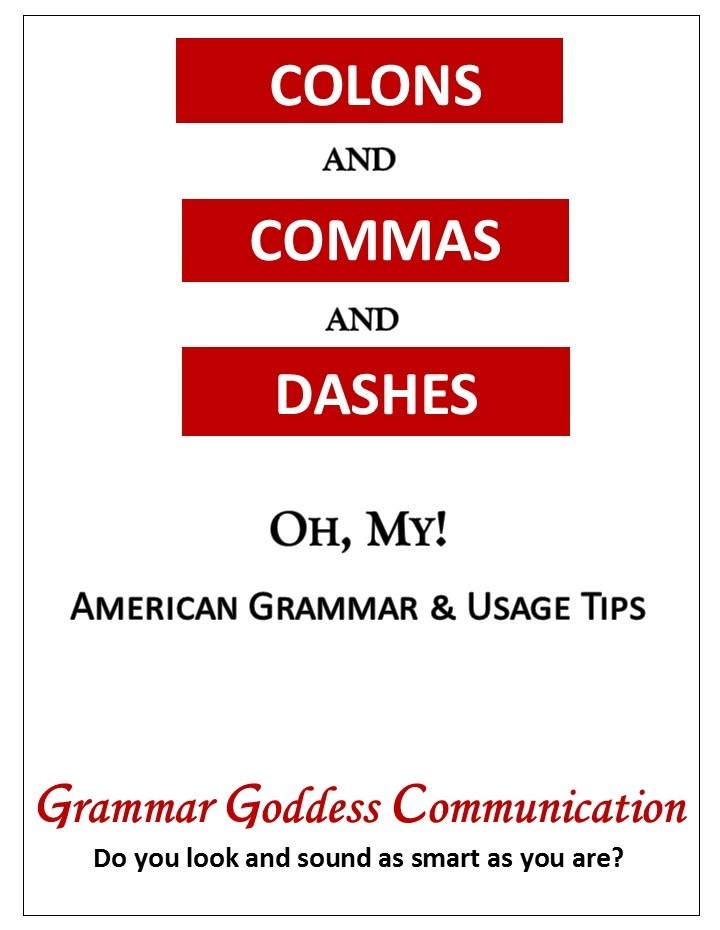 If you like FREEBIES – and who doesn't, especially at this time of year – and you're interested in learning a little more about American grammar and usage rules, click HERE for a FREE copy of my booklet Colons & Commas & Dashes, Oh, My!

And if you spot a typo, please let me know.


Sad to say, I'm not perfect.
You may be interested in these jobs
Found in: Adzuna US Premium - 1 week ago

---

Generali Global Assistance

Pembroke Pines

Job DescriptionJob Summary:Data Engineer with data pipeline, ETL, API and AWS cloud platform experience to contribute toward the success of our technology initiatives. Core areas include the warehousing, transformation, cleansing, and integration of large volumes of data. This po ...

Found in: Whatjobs US Premium - 1 day ago

---

Lansing Building Products Northeast

Braintree

Position: · Inside Sales · Responsibilities: · Lives our mission statement · Serves as the primary showroom contact for Lansing's customers · Handles inbound and outbound calls · Reports to the branch operation manager · Performs quotes from architect plans for windows and other ...

Found in: Lensa US - 3 days ago

---

Anderson Trucking Otr Company Driver

Ulysses

Job Description OTR Flatbed Trucking Jobs with Top-of-the-Industry Pay OTR · Company Truck Driver Pay: · Get Percentage or CPM Whichever Pays You More Make more money with Anderson Trucking Service (ATS.. · by Jobble