1 year ago · 3 min. reading time · ~10 ·
Blogging
>
Fay blog
>
Aim for the heart & speak the truth in love. What will your words say about you?
Aim for the heart & speak the truth in love. What will your words say about you?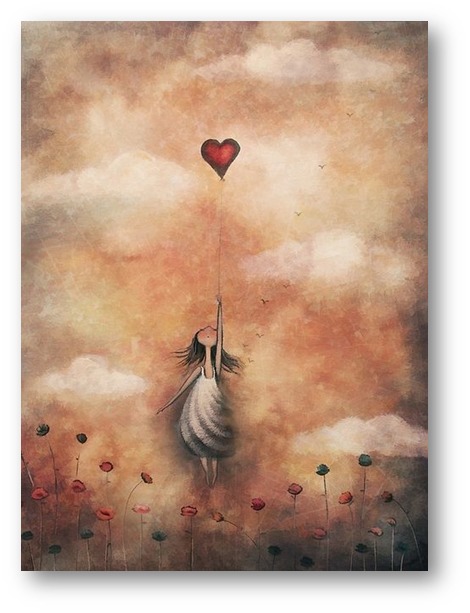 A delving question.
"How do you like it when someone speaks to you straight from the gut?" - Alan Geller
The question can be reversed.
How do others like it when you speak "straight from the gut?"
Answers offer revelation. An insight into you .. into them.
Before I answer both questions .. a detour to The Entire & The Rose – a science fiction quadrilogy by Kay Kenyon.
I read the books many years ago but there is one thing that resonated with me .. and ever remains.
The Entire has beautiful & interesting sentient beings that mirror many of earths creatures.
One is the ONYX. They are horse-like creatures. Larger & untamable except by one rider. 
Riders are blinded & life-bound to their onyx. They do not use bridals or reins. 
They communicate "heart-to-heart."
It was during a "time-of-captivity" .. that I discovered this onyx-like quality in myself.
I am a "heart-to-heart" communicator.
Whether it's straight from the heart or "straight from the gut".. it is straight-forward.
I have learned that this quality can make people uncomfortable.
Many would not consider it a quality – though I do. It requires wisdom and at times courage to speak in this way.
"Straightforwardness intimidates people. They prefer the veneer, despite what they claim." - Donna Lynn Hope
"Honesty is a very expensive gift. Don't expect it from cheap people." - Warren Buffet
"What we say and what we mean can sometimes be two different things .. depending on what someone wants to hear." Armand Gamache

There is a time for "straightforwardness"
There is a time for sweet nothingness .. sensual and material relationship .. as in the song;
"Call me"
He speaks the languages of love
Color me your color, darling
I know who you are
Come up off your color chart
Call me my love
Call me anytime
Call me in a sweet design
Call me with some clever line
"Call me" brings to light .. "languages of love"
Honesty & straightforwardness are true love languages.
The best way to be "straightforward" is to "speak the truth in love"
Love always seeks the best of another person.
Look within .. to be sure your intentions are pure.
Then "speak the truth in love" - Ephesians 4:15
Still, some truths are hard truths.
Hard to speak .. hard to hear.
To "speak the truth in love" with "straightforwardness" is a matter of finding the right words in your heart & aiming for their heart.
.. not roundabout or evasive; direct
.. free from ambiguity; clear
.. free from crookedness or deceit; honest
Consider .. 
The words of the mouth are deep waters, but the fountain of wisdom is a rushing stream. - Proverbs 18:4
Wounds from a friend can be trusted, but an enemy multiplies kisses. Proverbs 27:6
The purposes of a person's heart are deep waters, but one who has insight draws them out. - Proverbs 20:5
It's always what you say AND how you say it.
Straightforwardness without civility is like a surgeon's knife. Effective but unpleasant. 
Candor with courtesy is helpful and admirable." - Yukteswar Giri
Wisdom & discernment are priceless gifts
.. when choosing words
.. when speaking words
.. when hearing words
"What will your words say about you?"
Words can be TRUTH or words can be lies
Words can be foolish or words can be WISE
Words can be crooked & words can be straight
Should you be honest or do you hesitate?
Words can wound or words can heal
Words of strife .. our peace can steal
Words can DIVIDE .. or words can ignite
A nation .. a family .. to fight or UNITE
Words can make or break a deal
.. break us apart .. or help us heal
Words of LOVE .. can hate erase
.. like soothing balm .. strife replace
Words can take you captive .. words can set you free
Well-reasoned words can make a plea
 .. help us even better see
Harsh words turn a heart to stone
"Kind words" it is said "can heal bones"
Let us first our words rehearse
For words can BLESS or words can curse
And human speaking is an art
Words do reveal what is in the HEART.
https://www.bebee.com/producer/@fay-vietmeier-pennsylvania/what-do-your-words-say-about-you
Beware and be aware:
"Straightforwardness" is not always welcome and may not be wise.
We live in a time when people have no or low regard for truth.
People prefer to have their ears "tickled" rather than be confronted with candor .. or straight talk.
"Do not give dogs what is sacred; do not throw your pearls to swine.
If you do, they may trample them under their feet, and turn and tear you to pieces." Matthew 7 **
Still ..

"He who speaks truth tells what is right .. but a false witness, speaks deceit." Proverbs 12:17
"He who walks with integrity, and works righteousness, and speaks truth in his heart." Psalm 15:2
"Therefore, laying aside falsehood, speak truth each one of you with his neighbor, for we are members of one another." Ephesians 4:25
May 1st 2021
Giving honor where honor is due: this post was inspired by Alan Geller and his "AFTER DARK invitation to reflect"
"AFTER DARK is a state of mind; where we investigate and exhibit different perspectives"
Subject: Straightforwardness
Artist Blondie "Call me"
https://www.linkedin.com/feed/update/urn:li:activity:6791896031241019392/?commentUrn=urn%3Ali%3Acomment%3A(activity%3A6791896031241019392%2C6791898667310739456)

My "in the Light" reflection to Alan's invitation to "share an interlude" .. offer a "different perspective."
"In the Light" is also a "state of mind"
References:
Call Me" is based on the singer's sensual and material relationship
https://www.songmeaningsandfacts.com/call-me-by-blondie/
The Entire & The Rose – Kay Kenya
https://www.sfsignal.com/archives/2010/03/review_kay_kenyons_the_entire_and_the_rose_books_1_-_4/
**Special mention: City VP Manjit – mentioned this verse in his excellent comment on Alan's LI post  
"In His Light" .. I write
All rights reserved:  Fay Marmalich-Vietmeier 
If my words make you think … Great ;~)
As "iron-sharpens-iron" … I enjoy bantering with other BEES … please know, your feedback is as "honey"
A glimpse of the "Bee" called "me" ;~)
My caring nature makes me an advocate. My curious nature makes me a "queen of questions" but gifted with the ability to listen ;~) I am a woman of deep faith, a blessed mother, a voracious reader, a blossoming writer, a grateful person, and a lover of beauty. I treasure family, true friendships & my loyal clients. A "student at heart, I love learning: in every human dimension. Enjoy traveling, good books, good movies, good wine gardening & golf. 
I'm a "heart-to-heart" communicator.
https://www.bebee.com/@fay-vietmeier-pennsylvania
https://www.linkedin.com/in/faymarmalichvietmeier/detail/recent-activity/
https://twitter.com/femvietmeier
https://www.facebook.com/fayemv
You may be interested in these jobs
Found in: Talent US+ - 1 week ago

---

Comprehensive Care

Nashville

Comprehensive Care is the best family alternative to assisted living facilities, nursing homes, or adult day care. We are a large, private duty home care agency providing services in the Greater Nashville area. We are always looking for caring, kind, dependable and personable Car ...

Found in: Indeed US - 2 days ago

---

Kelly Services

Lincoln

Full Time

*Production Workers**"Hiring Immediately" · *$17.70-$18.80 with no experience**$18.10-$19.20 with 1 year experience**Rotating Shifts 1st & 2nd Monday-Friday*Today is the day to start your career with Kelly at Honda in Lincoln... let's talk · * $17.70-$18.80 per hour with no expe ...

Found in: beBee S2 US - 6 days ago

---

General Electric

Richmond

Paid Work

Job Description Summary · Own the project control activity globally and drive consistent functional specifications and common global processes for projects implementation. Activities that are conducted to better understand or ultimately meet the expectations of the customer Impac ...