Advantages of beBee Over Programmatic Job Advertising
beBee offers several advantages over programmatic job advertising, and it is known for delivering high conversion rates. Here are some of the advantages of bebee.com:
Niche Community: beBee is a platform for professionals, that focuses on connecting professionals within specific industries or interests. It provides a niche community where job seekers and employers with specialized skills or industry-specific requirements can interact. This targeted approach allows for more relevant job matches and higher-quality candidate applications.
Engaged Audience: The users of beBee are actively engaged within their professional communities. They share knowledge, insights, and collaborate on industry-related topics. As a result, job advertisements on bebee.com have the potential to reach a highly engaged audience who are more likely to respond to relevant job opportunities.
Networking Opportunities: beBee emphasizes networking and relationship-building among professionals. This can be beneficial for employers as it allows them to tap into a pool of potential candidates who may not be actively seeking jobs but are open to new opportunities. By leveraging the network and engaging with professionals on bebee.com, employers can access a talent pool that may not be easily accessible through programmatic job advertising.
Employer Branding: beBee offers features that enable employers to showcase their brand and company culture. By showcasing the company's team profiles, publishing engaging blog posts, and actively engaging with the community, employers have the opportunity to establish a strong brand reputation and leave a positive impression on potential candidates. This, in turn, can lead to increased conversion rates as candidates are more inclined to be drawn towards companies that align with their values and interests.
Community Support: The beBee community actively supports each other through sharing, commenting, and endorsing content. When job advertisements are posted on the platform, they can receive increased visibility and engagement due to the supportive community. This can lead to higher conversion rates, as candidates are more likely to trust and apply to job opportunities that have been positively received by the community.
While programmatic job advertising offers numerous benefits, it is important to consider potential disadvantages as well:
Limited Reach: Programmatic advertising's ability to target specific demographics and locations may overlook candidates who are not active online or do not frequent the platforms where the ads are displayed. This exclusion may prevent reaching qualified candidates who could be a great fit for the job.
Ad Fraud and Brand Safety: Programmatic advertising is susceptible to ad fraud and brand safety issues. Ads can appear on untrustworthy websites or engage in fraudulent activities, potentially damaging the employer's brand reputation. Employers need to carefully monitor and implement brand safety measures to mitigate these risks.
Dependency on Algorithms: Programmatic advertising heavily relies on algorithms and automated decision-making processes. While algorithms are designed to optimize performance, errors or biases within them can occur. Employers should regularly review and fine-tune targeting parameters to ensure optimal results.
Lack of Personalization: Programmatic advertising may struggle to deliver highly personalized experiences for candidates. Automated ad placements might not capture individual preferences effectively, resulting in less engaging experiences for potential applicants.
Ad Fatigue: The prevalence of ad fatigue can diminish the effectiveness of programmatic job advertising. Users may become overwhelmed or desensitized to online ads, reducing their engagement with programmatic job advertisements.
Reduced Human Interaction: Programmatic advertising relies primarily on automation, leading to a decrease in human interaction during the recruitment process. Some candidates may prefer more personal engagement and find the lack of human touch impersonal or less reassuring.
beBee differentiates itself with higher conversion rates compared to other job boards and programmatic job advertising due to the following reasons:
Organic Traffic: A key factor contributing to beBee's success is its 100% organic traffic. This means that users who visit the platform actively search for job opportunities and are genuinely interested in professional networking and engagement. This organic traffic ensures a more focused and engaged audience, significantly increasing the likelihood of conversions.
Versatile Platform: beBee offers a versatile platform that caters to a wide range of professionals. Whether individuals are seeking employment with companies, freelancers searching for projects, or professionals offering local services, beBee provides a comprehensive and inclusive platform. This versatility broadens the reach and appeal of job opportunities, attracting a diverse pool of professionals and enhancing the chances of finding the perfect match.
AI-Powered Job Alerts: beBee leverages the power of artificial intelligence for its job alert system. This AI-driven approach enables precise targeting of professionals based on their skills, interests, and preferences. By harnessing AI technology, beBee ensures that job alerts are delivered to the most relevant professionals, increasing the likelihood of conversions as candidates receive opportunities tailored closely to their profiles and aspirations.
Community Engagement: beBee nurtures a strong sense of community among professionals. Through active discussions, interactions, and the exchange of knowledge and experiences, professionals on beBee feel connected and engaged. This level of community involvement creates an environment conducive to relationship building and trust establishment between job seekers and employers, ultimately leading to higher conversion rates.
Real faces of the professionals involved in the job ad process: beBee offers professionals a superior experience when searching for new job opportunities by providing the unique feature of showcasing real faces and pictures of the professionals involved in the job ad process, rather than just displaying company logos. This approach brings several advantages in terms of quality of service, transparency, and conversion rates.
Establishing Trust and Authenticity: By displaying real faces and pictures of the professionals behind the job ad process, Bebee.com creates an environment of trust and authenticity. Professionals can see the actual individuals involved, adding a human touch to the recruitment process. This transparency instills confidence, as job seekers can verify the credibility and legitimacy of the job ad and the people representing the company.
Personal Connection and Engagement: The inclusion of real faces and pictures enables job seekers to make a personal connection and engage directly with the professionals associated with the job ad. Job seekers can visualize and interact with these individuals, asking questions, seeking additional information, and even initiating networking opportunities. This direct engagement enhances the overall candidate experience and establishes a more meaningful relationship between professionals and companies.
Deeper Understanding of Company Culture: Seeing real faces and pictures of professionals provides insights into the company culture. Job seekers can gain a sense of the people who work within the organization, their diversity, and their values. This understanding helps professionals assess the cultural fit and whether the company aligns with their own career goals and aspirations.
Improved Conversion Rates: The inclusion of real faces and pictures enhances the likelihood of conversion. Professionals are more likely to engage with job ads where they can see the individuals involved, as it generates a higher level of interest and trust. This increased engagement translates into higher-quality applications and improved conversion rates, as professionals feel more confident in pursuing opportunities through Bebee.com.
Networking and Relationship Building: Real faces and pictures enable professionals to build meaningful connections and expand their professional network. By engaging with the individuals behind the job ads, job seekers can establish relationships, seek mentorship, explore collaboration opportunities, or even gain referrals for future prospects. beBee's focus on showcasing real professionals encourages targeted networking, further enhancing the value of the platform.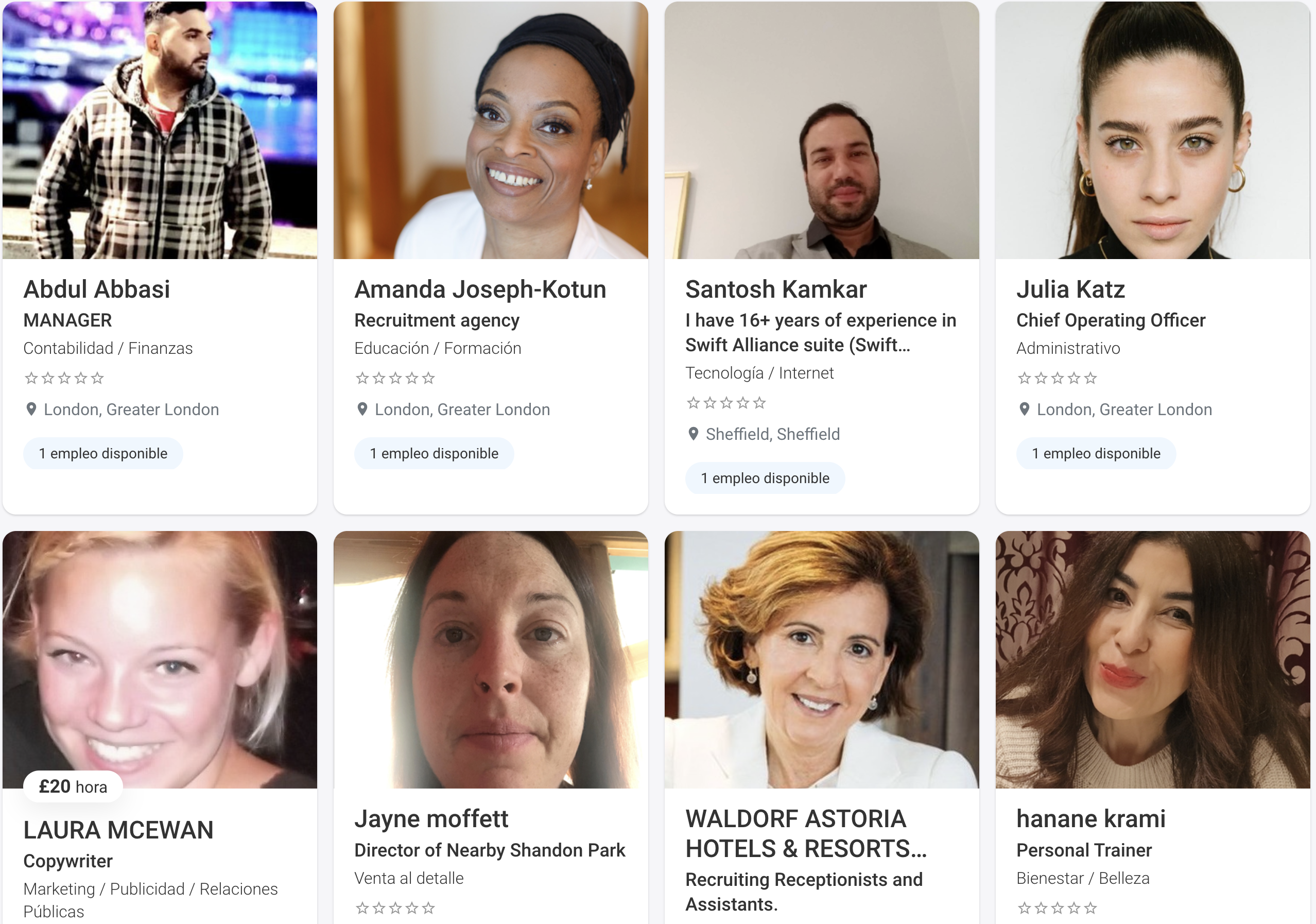 Science and Technology
Articles from Javier Cámara-Rica 🐝🇪🇸
View blog
You may be interested in these jobs
---

Sinica Education

Irvine, United States

Part time

$30,000 - $50,000 per year

What do we do?Co-founded by Harvard graduates, Sinica Education provides online educational content to Chinese students from 7th to 12th grade in China and in the US. · Using online tools, we provide ...

---

Intuit - TurboTax

Albuquerque, New Mexico, United States

We're looking for YOU · Join TurboTax as a TurboTax Product Expert and be the friendly face our customers rely on during tax season. We're looking for individuals with excellent communication skills a ...

---

Anders Group

Terre Haute, IN, United States

Registered Nurse IMCU Intermediate Care · Location: TERRE HAUTE , IN · Start Date: 11/27/2023 · Shift: 3x12 Nights · Setting:Please contact for Setting details · Apply online or contact us ASAP f ...