Activist Spotlight: Coretta Scott King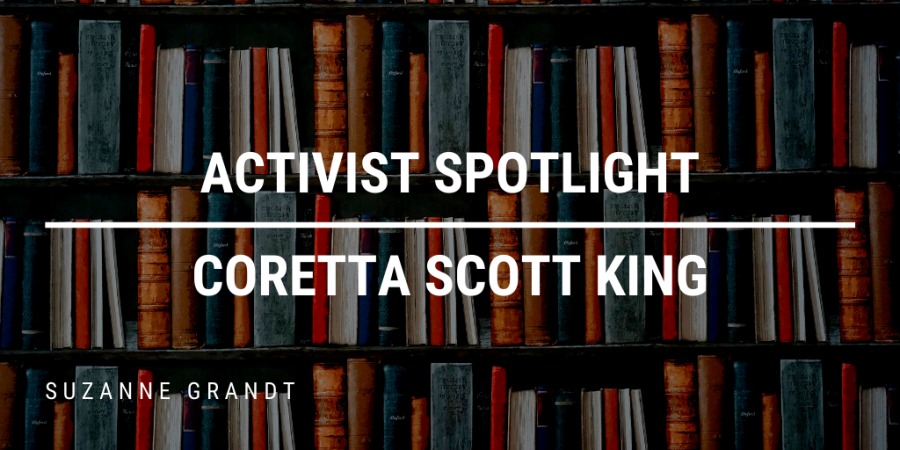 Coretta Scott King, the wife of the Reverend Dr. Martin Luther King Jr., was a civil rights leader and activist for decades. From her earliest work at her husband's side to her recent activism, King proved a leading light in the fight to create a better, fairer world.
Childhood and Education
Born in Marion, Alabama, Coretta Scott followed her stellar high school career with multiple college degrees. She studied education and music at Antioch College in Ohio before moving on to the New England Conservatory of Music to study choir singing. While in Boston, she met a young theology student and quickly fell in love. In 1953, she married Martin Luther King Jr., and a year later, the young couple moved to Montgomery, Alabama.
Life with Dr. King
While her husband rose from a simple pastor to a central leader of the burgeoning Civil Rights Movement, Coretta Scott King contributed to the movement while raising their four children. She became a prolific public speaker and key organizer, arranging freedom concerts and other events. Trips to Mexico and India furthered her commitment to ending inequality, a goal she would maintain long after her husband's tragic murder in 1968
Later Activism
Following her husband's death, King got busy cementing his legacy and continuing his work. She founded the Martin Luther King Jr. Center For Nonviolent Social Change in Atlanta, Georgia, an institution that pushes for social progress and nonviolent methodologies. As President of the Center, she advocated the creation of a national holiday to commemorate her husband and his legacy of peaceful resistance.
King engaged in a number of projects as an activist, from coalition building to public speaking at rallies. While remaining active in her own country, she also turned her attention abroad. From Europe to Africa, Latin America to Asia, she contributed where she could to the causes of equality, opportunity, and freedom.
Coretta Scott King died in 2006, leaving an impressive legacy and a monumental impact on the world. She was buried beside her husband, and their graves will remain a landmark representing nonviolent resistance to oppression. Having accomplished so much in a single lifetime, there can be no denying that King deserves her place in history.            
You may be interested in these jobs
Found in: Jooble US - 4 days ago

---

O'Reilly Automotive Stores, Inc

Hollywood, FL

O'Reilly is now hiring Parts Delivery drivers. Our parts delivery team members are responsible for the safe and efficient delivery of parts to our professional customers. They are also responsible for the cleanliness and standard maintenance of company delivery vehicles. These te ...

Found in: beBee S2 US - 3 days ago

---

All Medical Personnel

Memphis

Full time

Emergency and Trauma opening in Memphis, Tennessee. Specialty: RN-Emergency Department -Travel · Job Description · ER nurses work as part of a team with physicians, other nurses and healthcare professionals to provide care, monitor health conditions, plan long-term care needs, ad ...

Found in: Jooble US - 2 days ago

---

American Power & Gas

Dade City, FL

Full time

*****American Power & Gas* offers *green solutions* to both residential and small commercial customers and have been leaders in Customer Choice programs across America for over 15 years. We are one of the oldest and most reputable companies of its kind in our industry and the la ...