2 years ago · 1 min. reading time · visibility ~100 ·
Activist Spotlight: Angela Davis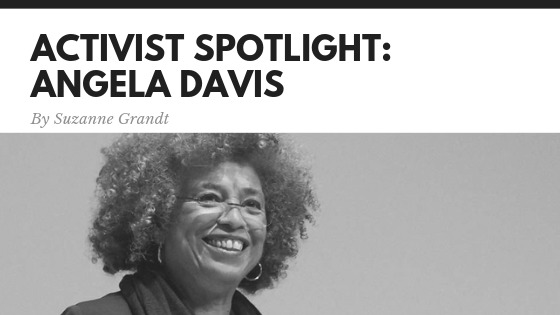 Angela Davis has become mythologized in liberal activist communities in the past couple of decades. Angela Davis was and continues to be one of the most important figures in 20th-century American activism. Her platform focused on pushing for prison reform and gender equity across race and class.
Davis was born on January 26, 1944, in Birmingham and was raised in a neighborhood known as "Dynamite Hill." This name was given after a bombing by the Ku Klux Klan, and the area was a hot-spot of racism. The racism that Davis experienced during her youth would come to inform her philosophy later in her life. She was raised in a time of radical change and belonged to multiple interracial study groups that were broken up by authorities to better understand race and racism better.
Upon high school graduation, Davis began attending Brandeis University in Massachusetts where she studied philosophy under the tutelage of her mentor, Herbert Marcuse. She also began associating with the Black Panther Party, a group that advocated for self-defense and self-sufficiency in black American communities. This group became feared by many white Americans who saw black liberation as a threat to familiar social systems. Davis also became a member of an all-black Communist organization known as the Che-Lumumba Club, during the Cold War era. Her communist associations would lead to her getting fired as a professor at UCLA, but she'd continue to fight for her position and to self-advocate, and eventually was given the professorship again.
Angela Davis' was often framed as controversial because of her political stance. A key event during her activist life involved the courtroom killings by the Soledad brothers. While on trial for accusations of murdering a correctional officer, John W. Cluchette, Fleeta Drumgo and George Lester Jackson staged an attempted escape. Davis, who strongly advocated for the three men and believed their trial to be a political attempt at undermining their work toward equality, was tried on multiple accounts for her alleged involvement in the crime. She used this event as a platform to evaluate the inequality and mistreatment of those in prison.
In the decades since, Davis has continued to be a prolific advocate for women's rights, racial equality, and criminal justice reform. She served as a professor at the University of California, Santa Cruz until her retirement in 2008. Despite that, she continues to regularly lecture at prestigious universities throughout the United States and continues to challenge the United States to evaluate itself and its problematic systems to create a better country.