4 reasons to use beBee as a complementary social media strategy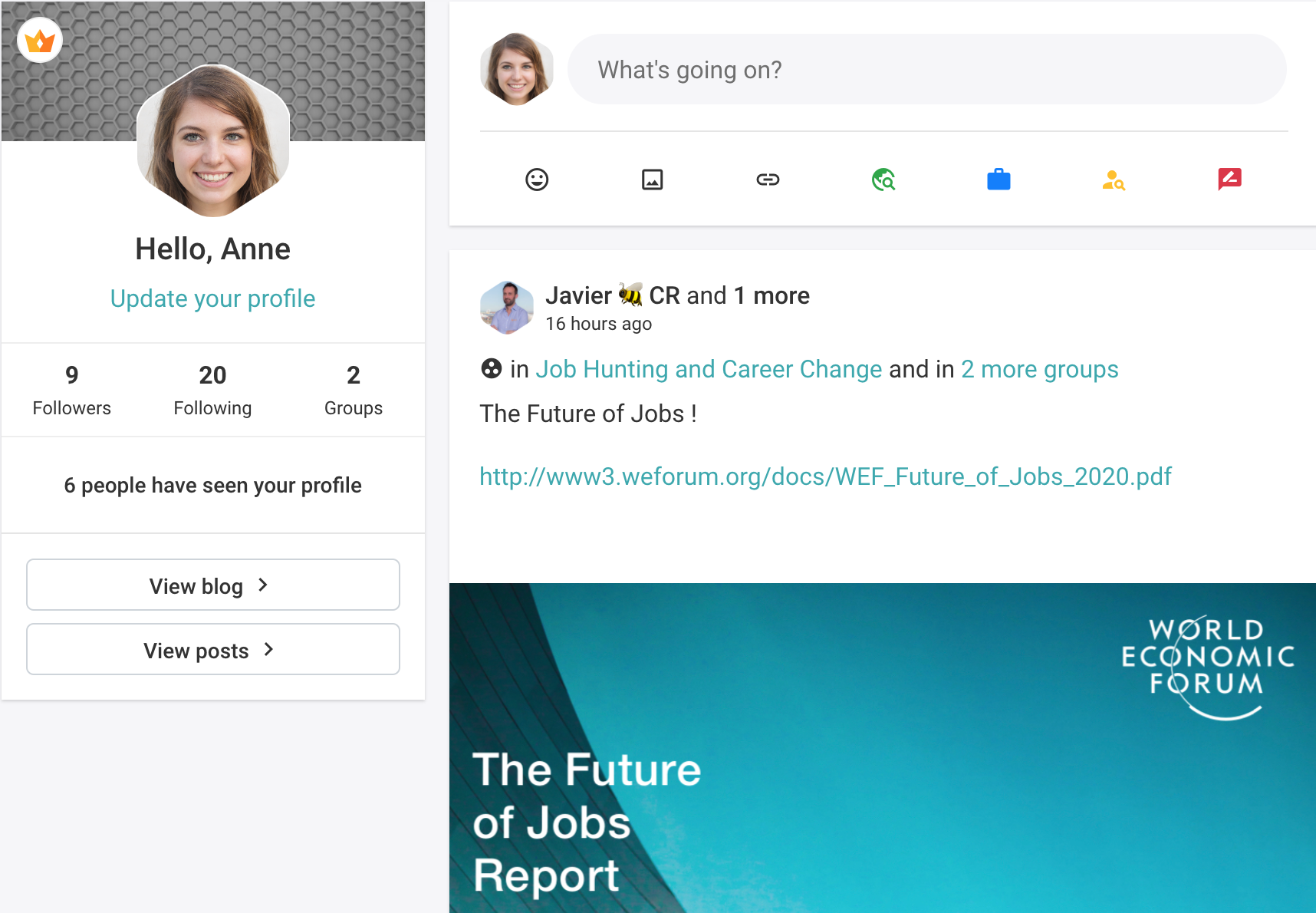 Today I continue to talk about this promising network that I like so much called beBee.  Here are some more reasons to be a member of beBee:
1.- It is complementary to the professional network Linkedin.
I like it because it is complementary to Linkedin, and in no way a substitute for it. beBee allows you to share content on Linkedin with a simple click. They allow you to manage your own groups by deciding which members are part of your group and which are not, and deciding which content you want in your group and which you want to exclude.
2.- The google of jobs.
I see that beBee indexes all third-party jobs, that is, it is like a kind of Google of employment, so it makes it much easier to search for ads. Many people wonder why it takes you elsewhere, and that's why, like google, it takes you to the original source of the job posting.
3.- A blogger or medium integrated in the platform itself
beBee has its own tools for bloggers, making it especially easy to create and disseminate your content. No need to know about templates, no need to worry about who follows you, and it positions you in Google, i.e. it does everything for you. You don't need to be an expert in technology to have your own blog on beBee.
4.- A place to upload your ideas, your personal or professional interests in the style of Pinterest through tags.
beBee has a tool where you can share your content and enjoy the content and ideas shared by other people through hashtags, and allows you to explore the content that other users share on the network through these hashtags. I find it a very graphical tool and very easy to use.
A space for freelancers and professionals in general who are looking for job opportunities.
beBee is also clearly committed to teleworking and freelancers. Here you can certainly be a freelancer, or being a professional looking to provide their services, or being a professional working for a company.
That is, without pretending to replace any network, I see that it is an easy place to be, no matter what your goal is, and always having clear that you want to be visible on the Internet, in Google. I personally am on Linkedin but I enjoy beBee more, and I distribute the content I post on beBee through twitter, facebook and linkedin. Sometimes I also use Pinterest and Instagram to see ideas about things, for example decoration, nice places to go, etc, and I think it's great that beBee also incorporates all this functionality.
I hope this opinion helps you to enjoy this social network that does not censor and comes to give fresh air to the networks.
#socialmedia #beBee #blooger #ideas #freelancers   #profesionals #medium #jobs #linkedin 
You may be interested in these jobs
Found in: Jooble US - 1 week ago

---

Republic National Distributing Company

Littleton, CO

Overview · This role partners with internal teams in the management of various key responsibilities directly related to supplier relations and supplier contract commitments. · Works closely with suppliers and sales teams to develop programs that drive the business; communicates p ...

Found in: beBee S2 US - 6 days ago

---

Labcorp Drug Development, Labcorp

Dallas

Part time

The Clinical Recruiter II is responsible for handling all public inquiries pertaining to study participation. Schedules screening appointments for qualified participants. · Duties and Responsibilities: · Receiving and placing calls from and to potential study participants. · Ente ...

Found in: Jooble US - 51 minutes ago

---

Axiom Banking

Maitland, FL

At Axiom Bank, we encourage you to aim for the sky and leverage your expertise and passion to excel. We are a growing, dynamic organization this is an exciting time to get on board · We believe in the value of promoting a healthy work/life balance and are committed to recognizing ...