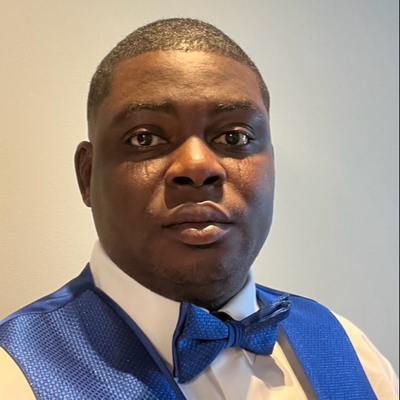 About Kazeem Adamolekun :
Flexible Network Engineer/I&R technician with exceptional insight when
troubleshooting routers, switches and firewalls,and repair cables. A
motivated employee with expertise supporting the choice and purchase of
hardware and software components.
Experience
Hardware and software
configurations
• Maintains/repairs and tests
copper cable in an underground,
aerial, or buried environment.
• Troubleshoots problems that will
require copper repair, copper
maintenance, copper slicing,
faultfinding, etc.
• Data backups
• Switching protocols
• Cisco wireless routers and
switches
• Proficiency with Microsoft Office
products, IOS, and linux
• Network configuration
• Infrastructure planning and
design
• VLAN designs and
troubleshooting, LAN/WAN,
OSI/ TCP/IP model
• Interacts with customers
professionally and courteously
via telephone or on the premises.
• Performs testing and turn-up of
subscriber lines.
• Locates and repairs aerial and
underground cable.
• Locates, joins, repairs and
rearranges cable and cable
equipment in buildings and aerial
or buried plant. Installs,
maintains/repairs, and tests
residential/small business
telecommunication service
(POTS, Prism, Fiber and DSL).
• Fault isolation
• Technology planning
• User training
• Data management
• Critical thinking
• Conflict resolution
• Analytical
Education
Bachelor of Science
Computer Science
Ternopil National Technical
University, Ternopil, Ukraine
June 2015

Certificate
International Cyber Conflicts
The State University of New York,
Albany, NY
March 2016

Certificate
Certificate in Cybersecurity
Kennesaw State University,
Kennesaw, GA
March 2016
Professionals who compete with Kazeem
Professionals in the same Telecommunications sector as Kazeem Adamolekun
Professionals from different sectors near Brownsburg, Township of Lincoln, Hendricks
Jobs near Brownsburg, Township of Lincoln, Hendricks
---

XPO

Belleville, IN, United States

XPO is a top ten global provider of transportation services, with a highly integrated network of people, technology and physical assets. · If you're looking for a growth opportunity, join us at XPO. ...

---

MyEyeDr

Carmel, United States

Part time

$25,000 - $35,000 per year

About the role · See yourself starting a new career journey? As a Patient Service Coordinator at MyEyeDr. you play an essential role by providing personalized patient experiences through the coordinat ...

---

Nomad Health

Indianapolis, IN, US, United States

Job Description · Nomad Health seeks an experienced Rehabilitation registered nurse for a travel assignment in IN. · Take the next step in your healthcare career and join Nomad Health as a Rehabilitat ...